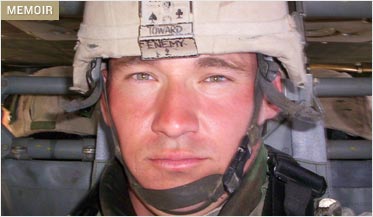 The best books succeed because they offer the reader a glimpse into a world that might otherwise be unknown, or unknown to most of us. The book at hand, Last Journey: A Father and Son in Wartime, is one of those books. The number of parents who have lost children in the current American wars in Iraq and Afghanistan is a small, albeit growing, number. The distinction is an awful one, the mark of experience that tears families apart, that leaves a wake of grief, anger, and remorse.

Last Journey is by Darrell Griffin Sr. and Darrell "Skip" Griffin Jr., a self-educated and widely read staff sergeant in the U.S. Army. His areas of interest were philosophy and theology. From his high school years and to the moment of his death, he devoured the giant works of the canon, books by Kierkegaard, Hume, and Nietzsche as well as more esoteric works such as Aristotle and the Arabs: The Aristotlean Tradition in Islam, by F. E. Peters.

The reader can't help but think that if senior members of the Bush administration had been as hungry for knowledge about the Middle East as Staff Sergeant Griffin the war would have turned out differently or might never have been fought. Skip's journal entries range from questions of being and justice to mind searing renderings of the suffering of Iraqi civilians and the deaths of fellow soldiers.

One of the aspects of memoir writing that is most satisfying for the writer is the temporary illusion that she has most of it figured out from the start: she had crazy alcoholic parents who abandoned her and then she made it to the Ivy league; he was raised by wolves and only suffered minor injuries; he backpacked across Nepal and met some cool people and experienced transformative moments while looking at the abyss and is now home to write about it.

The unsatisfying thing about writing memoir is that just because you know the story, the story isn't necessarily known: the tale of one's experience has a way of expanding once begun, creating traps that the memoirist might never have imagined — just as characters sometimes barge unwanted into novels, events sometimes barge unwanted into memoirs.

The elder Mr. Griffin and his son had been engaged in a decades-long debate that they called "The Great Conversation." The senior Griffin guided his son's reading when the boy was younger and then was led by the son as he grew older and hungrier for knowledge. The men decided that when Skip returned from Iraq after his second tour they would write a book together, based on their intellectual engagement. One father wants to take his son to a bar; another wants to write a book with his son. This fact alone is rather remarkable.

And the resulting collaboration might have been a fine product by a father and son that loved and respected one another and their shared learning. But, in March of 2007, Skip was killed in Iraq by a sniper's bullet as he rode air guard in the rear hatch of his Stryker combat vehicle. And his father went on to write what must be the first of its kind (I can think of no other model): a book started in fragments — journal entries, emails, and the occasional blog entry — by a son, and finished, after the son's death at combat, by the father.

Griffin Sr. has crafted more than a simple testimony to a lost son. The early pages of the book that narrate the father's hardscrabble upbringing in the poor Okie regions of the central California Delta evoke a world not so finely rendered since Leonard Gardner's Fat City. The names of towns like Turlock and Stockton, to those who know them, conjure poverty and neglect. It's a world so poor and bleak that Raymond Carver's characters would split town upon peering in a few living room windows:
At times there were eleven people living in Grandma and Grandpa's house. Every few years my father would come around and get me and my sisters excited with all of his empty promises, only to disappear again. He still owes me a bike.

This deadpanning, along with clear-headed prose, is what raises the book above a simple reminiscence. The book is a testament to reading and education as social ladder. The poor people Skip comes from — his mother, pregnant with him in high school, disappeared by the time he was four — make up a large portion of the enlisted ranks of our military. But the senior Griffin worked his way up through college and a graduate degree and off of the welfare rolls, and he taught his son to love books.

Skip won a Bronze Star with a V for valor. He seems, by all testimony, to have been a stellar and selfless leader of men. He also managed to get himself in trouble occasionally: upon arrival for his second tour another soldier ratted him out, telling the command that he'd brought his own M-4 and Beretta pistol. "By bringing in his own weapons Skip violated some pretty serious Army regulations," his father notes. For any other soldier this might have meant a demotion or even a dishonorable discharge, but the sheer number of Skip's peers and commanders who were willing to come forward to testify to his combat worth and command abilities convinced his unit to go easy on him: they sent him to the Tactical Operations Center for six months before he could return to leading men in combat. "This punishment would prove to be a valuable learning experience for Skip."

Skip sounds to me like one of those men that everyone in the battalion knew and trusted and wanted on their side, whether it be for a game of hoops or a combat mission. He's the leader who was willing to trade pistols for whiskey with Iraqi army units and could also articulate the complexities of the Iraqi religious and political structures in long talks with subordinates and peers, as well as in the journal entries that make up much of his contribution to Last Journey.

The book that he helped his father write from the grave is a testimony to the brave brand of thinking, skeptical soldier who does his job no matter what. One of Skip's lieutenants later told the elder Griffin that regardless of the mission Skip always said, "Screw it, we gotta do it, we gotta do it." It might have been the elder Griffin's mantra while writing this book for and about his son. And the literature of war is richer for it.