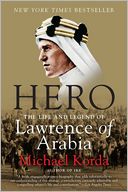 T. E. Lawrence was born on this day in 1888. Even before his exploits in Arabia made him famous at age twenty-eight, Lawrence seemed bound for a life of accomplishment and adventure. At the age of fifteen he was scouring Oxfordshire and surrounding counties by bicycle, collecting archeological and antiquarian items. While still a schoolboy he toured France by bicycle, researching medieval castles; while studying history at Oxford he took a three-month walking tour of Ottoman Syria, looking at the Crusader castles there. Giving up postgraduate studies in archeology in order to practice it in the field, he worked at sites across Mesopotamia until war broke out. It was through his return in the spring of 1917 to one of these stops, Aqaba, that he would ignite the Arab Revolt against Ottoman rule — the first Arab Spring — and begin his transformation into Lawrence of Arabia.

Hero, Michael Korda's 2010 biography, begins with an account of Lawrence's role in the stunning Turkish defeat at Aqaba. Korda's first chapter, taken from a comment by one of Lawrence's military superiors in the early days, is titled "Who is this extraordinary pip-squeak?" Apart from alluding to the fact that Lawrence was under five and a half feet tall, the comment conveys the widespread feeling that Lawrence could be a handful for any commanding officer. In The Seven Pillars of Wisdom, his own account of his Arabian years, Lawrence explains that he had no faith in the official strategy to take Aqaba and no qualms about making his own plans: "So I decided to go my own way, with or without orders. I wrote a letter full of apologies to Clayton [Brigadier-General Gilbert Clayton], telling him that my intentions were of the best: and went.

Lawrence's Seven Pillars of Wisdom is a very personalized history, written with "the pleasure it gave me to recall the fellowship of the revolt," though with bitterness over what the politicians eventually made of the revolution:
We were fond together, because of the sweep of the open places, the taste of wide winds, the sunlight, and the hopes in which we worked. The moral freshness of the world-to-be intoxicated us. We were wrought up in ideas inexpressible and vaporous, but to be fought for. We lived many lives in those whirling campaigns, never sparing ourselves: yet when we achieved and the new world dawned, the old men came out again and took our victory to re-make in the likeness of the former world they knew.
---
Daybook is contributed by Steve King, who teaches in the English Department of Memorial University in St. John's, Newfoundland. His literary daybook began as a radio series syndicated nationally in Canada. He can be found online at todayinliterature.com.