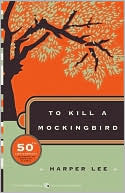 April 28: On this day in 1926 Harper Lee was born in Monroeville, Alabama. Apart from To Kill a Mockingbird, Lee is known to have written only three short magazine articles, all of them published in the early 60s. Neither has she often broken the silence and anonymity into which she quickly retreated, though legions of curious readers, fans, and homework-driven students continue to make the real or internet trip to Monroeville to see the old courthouse (now a museum), or to see the house where Lee grew up (gone, now a burger stand), or to espy the author, who still spends her summers there. From the little gossip that appears, we learn that she likes to keep to her ordinary, small-town ways, shopping at the Piggly Wiggly and having coffee at Hardee's. From one of her rare appearances in print, a 2006 letter written about her childhood for O, the Oprah Winfrey magazine, we learn that she keeps to other familiar habits: "Now, 75 years later in an abundant society where people have laptops, cell phones, iPods, and minds like empty rooms, I still plod along with books."
In interviews conducted in the mid-60s Lee certainly talked as if she planned to continue writing, and to take ordinariness as her theme:
I want to chronicle something that seems to be very quickly going down the drain. This is small-town middle-class life, as opposed to the Gothic, as opposed to Tobacco Road, as opposed to plantation life…. There is something universal in this little world, something decent to be said for it, and something to lament in its passing. In other words, all I want to be is the Jane Austen of south Alabama.
South Alabama and the world will be heading to Monroeville this summer to mark the fiftieth anniversary of To Kill a Mockingbird. The July 8-11 "Celebration Weekend" promises the chance to "soak up small-town Alabama life," whether by sampling "the state's best BBQ Lunch" or a "Tequila Mockingbird." Many who go will be hoping that they are right about the "special guest" scheduled to read a passage from the novel aloud in front of the Atticus Finch Marker on the Old Court House lawn.
---
Daybook is contributed by Steve King, who teaches in the English Department of Memorial University in St. John's, Newfoundland. His literary daybook began as a radio series syndicated nationally in Canada. He can be found online at todayinliterature.com.