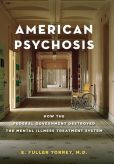 The Pennsylvania Hospital, America's first medical care facility, opened on this day in 1753. Privately funded by Benjamin Franklin, Dr. Thomas Bond, and other prominent citizens, the hospital was intended "for the relief of the sick poor and for the reception and cure of lunaticks." While notable for many other innovations, the Pennsylvania Hospital became a progressive treatment center for mental illness when Dr. Benjamin Rush, a Founding Father and a leading figure of the American Enlightenment, joined the staff in 1783. Now dubbed "the father of American Psychiatry," Rush took mental illness out of the realm of demon possession and circus sideshow — at the time, the townspeople could visit the mental wards for entertainment — by implementing a number of more scientific and humane clinical treatments.

In American Psychosis, E. Fuller Torrey argues that the trend toward the community care of the mentally ill over the past half century has turned into an "unfolding disaster of services," condemning many to live on the streets, be thrown into jails, or fall through the social cracks:
During my years of working in a public psychiatric hospital, I observed with increasing anger the effects on my patients of inadequate community services. I continue to become choleric when I read accounts like that of Charles Furry, diagnosed with schizophrenia and Lou Gehrig's disease, living by himself in suburban Virginia and dependent on Medicaid-funded home health aides:

When we removed his socks maggots fell out. Hundreds fell out initially. There were some between his toes and under his skin. Furry's legs were swollen and his shirt was drenched in drool.

This is not what President Kennedy had in mind fifty years ago when he promised that for people like Mr. Furry "reliance on the cold mercy of custodial isolation will be supplanted by the open warmth of community concern and capability." The home health aides responsible for Mr. Furry's care were employed by Sierra Health Services, Inc., a highly profitable private company. We should not allow human beings to be treated in this manner if we claim to be truly civilized.
---
Daybook is contributed by Steve King, who teaches in the English Department of Memorial University in St. John's, Newfoundland. His literary daybook began as a radio series syndicated nationally in Canada. He can be found online at todayinliterature.com.