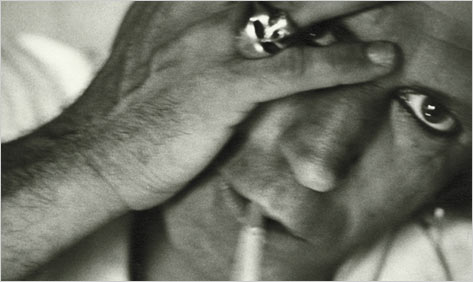 Weighingin at 547 pages, the autobiography of Keith Richards, the world's mostworshipped rhythm guitarist, is called Life, a title that evokes a high school biology textbookmore than the ultimate sex-drugs-and-rock-and-roll tell-all. "Life"itself seems like something that just happened, as opposed to a destinyfulfilled. One might have thought some song titles would have been more to thepoint: Torn and Frayed? Shine a Light? Tumbling Dice? And those are just from Exile on Main Street. How about just Keef?And yet, after concluding this tome, I had to rethink my wishful alternatives,since the book does teach a kind of Life Science, or perhaps Life Lessons orLife Studies, although the aim is hardly pedagogical. "Don't try this athome, kids," is the subtext of the voluminous riffs on how to shoot smack(only the purest pharmaceutical grade, which ain't on the streets anymore),fall out of a tree (not, according to legend, reaching for a coconut but merelysettling on a branch), or snort your dad's ashes (which he did, but as anafterthought, in a Big Lebowskimoment).
What he does want toteach, though, is how to write songs, play guitar, and create grand, 3-minuteoperas for the voice, body, words, and diva persona of Mick Jagger, and this isa master class of the highest order. Each chapter begins with a David Copperfield-like synopsis, andwhether or not our Keef becomes the hero of his own life, these pages willshow. For half a century—with all the bitching and carping included in thisbook and familiar to those who have kept up with the squabbling parents whonevertheless hold it together—the Glimmer Twins still sparkle, still performinga tightly choreographed spectacle against the logic of age. Their 2006 Bigger Bang tour grossed over $588 million,the most lucrative rock & roll gig ever, even though it has been 30 yearssince Mick and Keith wrote a song that most people even know. Between 1965 and1981, though, despite a few valleys (Goat'sHead Soup, Blackand Blue,Emotional Rescue) among the peaks (just about everything else), theywere hard to beat. Even if they were less mellifluous than The Beatles or lesspoetic than Bob Dylan, no rock band this side of Muddy Waters explored withmore splendor or seductive danger the power of three chords and the truth. Richardsliterally wrote the riff for "Satisfaction" in his sleep, and wasonly slightly more conscious for the rest of his finest musical foundations. Hisriffs, borrowing musical logic from Chuck Berry and open tunings from Bo Diddley,carry, in their most sublime moments, the weight of the world, and his book isequal parts demystification and mythification. How did this bloke fromDartford, Kent become a seemingly accidental genius?
He certainly couldn't havedone it alone. His legacy is really fragments of songs, all knitted together bySir Mick, who himself wouldn't have been worth his title—not even worth hisshimmy—without Keith. We get the story of a guy who doesn't just want torandomly bang some birds and score a bump, but wants it to be soulful, evenaffectionate. If you get too sucked in, you could almost become a Keithapologist, glossing over the moment he pulled a knife on organist Billy Prestonfor playing too loud (unopened, but still!), and breaking the chivalric code bystealing model-actress-junkie Anita Pallenberg from founding Stones guitaristBrian Jones (although he goes to great lengths to portray Jones, 5 foot 6 andfey, as physically abusive to women and increasingly useless to The Stones). Anyway,to hear Keith tell it, Pallenberg ended up in the sack with Mick around thetime he turned down a three-way proposition from Marlon Brando (which didn'tstop Keith from naming his eldest son after him) and before he became an even moredeeply hooked junkie than he had been, that last corroborated by MarlonRichards himself. Goodbye, Ruby Tuesday.
Whether or not you buyKeith's image of himself as a knight in shining armor (having, he says, shirtsruined by the tears of Bianca, Jerry, and other martyred babes of Mick), Life's most privileged moments findKeith becoming so enthralled with a three chord creation, he could stay up daysand days (nine was the record) just hammering it out until he struck gold. "JumpingJack Flash" was the turning point in Keith's use of open tunings, a guitarplayer's mysterious alchemy that can produce the deepest results. "Thosecrucial, wonderful riffs just came, I don't know where from," he writes,still giddy. "I'm blessed with them and can never get to the bottom ofthem." This is why we care about Keith, who kicked heroin three decadesago (perhaps after recording Tattoo You, the last good Stones album), and kicked coke andeven booze more recently. Now, he has never looked more battered, but has neversounded more lucid. This is a fascinating book by a flawed man still settlinghis scores, but his pages on those riffs are a must for anyone who wants to diginto the mystery of "Street Fighting Man," "Brown Sugar," "GimmeShelter," and those other songs that seem impervious to decay. They are asbig as Life and still too large for Richards to fully comprehend: "It'slike a recall of something and I don't even know where it came from!"
---
David Yaffe, a professorof English at Syracuse, is the author of FascinatingRhythm: Reading Jazz in American Writing (Princeton). His next book, Bob Dylan: Like a Complete Unknown, will be published by Yale University Press nextMay.