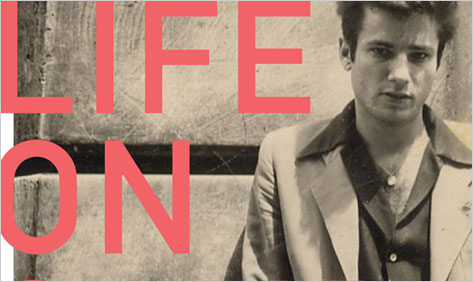 With atitle like Life on Sandpaper, you know the book is meant to be rough. And so itis—the Israeli painter/writer Yoram Kaniuk's bumpy, bristly account of hismultiyear spree in Greenwich Village after being wounded in the 1948 War ofIndependence. Nothing is polished—not the descriptions, not the dialogue, notthe action. It's life left in a natural state with all its scraggy joy intact.
What a life it is. Thesewere the glory years of New York's bohemian scene: abstract expressionism,improvisational jazz, beat poetry sung on the streets in a bawdy, feverish mix.It was the era when sentimental gangsters wept at the music in nightclubs, whenif you had the kind of moxie Mr. Kaniuk apparently had, you could score a dancewith Ginger Rogers by pretending to be a Soviet spy. A parade of drugged-outangels and talented grotesques lurch through in a glorious, messy,Fellini-esque sprawl.
Wise was the editor whodidn't try to impose gloss on the book's spontaneous, splintery disorder. Roughnesscan be a virtue when describing larger-than-life characters like Frank Sinatradown on his luck and "singing like cowboys fight in the movies" toget himself back in the game; James Dean with his "mischievous sense ofshame"; the shrewd and bitter menace of William Saroyan. Gag writers forthe Steve Allen show, the funniest show on TV at the time, turn out to be "fiveof the saddest people I'd ever met, their faces long and longer," sittingaround a bottle of Four Roses bourbon laughing with their mouths closed.Pungent cameos abound: Jerome Robbins, James Agee, Leonard Bernstein, BillieHoliday, Peter Ustinov, Charlie Parker, Willem de Kooning, on and on.
Notmany women's names in the list above? Fear not. Women abound in Kaniuk'saccount; in point of fact, just about every heterosexual encounter ends up inthe sack. OK, one with a nun doesn't. And Lady Day wasn't crazy about hiskissing. But Kaniuk finds succor of a sort by picking up widows in cemeteries,female drivers stuck in the mud and, oops, the nun is back 50 pages later, hotto trot.
Are wemeant to believe every word? It hardly matters. Kaniuk calls his book an "autobiographicalnovel," and it feels curmudgeonly to quibble. In truth, theself-mythologizing gets a bit much sometimes: "I learned where to getcheap meatball-and-spaghetti meals in various, almost secret locations."Really, secret spaghetti joints? But he redeems himself with self-awareness ofthe most astringent kind. "My talent was meager," he says of his ownpainting, "I was only doing my best, but my best was shallow andconceited."
So what are we to do withthis much unvarnished self-involvement? Surrender to it! If not every word istrue, the one thing we can believe in is its energy: the sheer, driven thrustof it. And we should feel free to read it any which way we want. Since Kaniukdoesn't follow any rules, we don't have to, either. 417 pages contain noquotation marks, no chapter breaks, not even a fleck of white space to providea breather. With that kind of anarchy, we can be anarchic ourselves, and pickit up or put it down anywhere. We can play as rough as he does!
---
DanielAsa Rose is the author, most recently, of Larry'sKidney: Being the True Story of How I Found Myself in China With My Black-SheepCousin and His Mail-Order Bride, Skirting the Law to Get Him a Transplant …and Save His Life, named one of the topbooks of the year by Publishers Weekly.