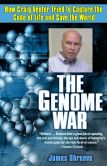 The Human Genome Project published the first draft of the complete human genome in Nature magazine on this day in 2001, and Craig Venter's Celera Genomics company published a similar article in Science magazine the following day. The story of the intense scientific, political, and commercial rivalry between the two research groups is told in The Genome War (James Shreeve, 2004) and other books. Venter's A Life Decoded also has much to say on the topic, but the memoir gives a frank account of some real war experiences — Venter's Vietnam stint as part of the U.S. Naval Medical Corps, "in a job that was M*A*S*H* without the jokes and pretty women." After five months of "the bullshit, the madness, and the horror," Venter says, suicide seemed the best option:
My plan was to carry on until I was exhausted and then sink into dark waters and oblivion. This would not be easy because I was a strong swimmer and in great shape. More than a mile from the beach, as I say venomous sea snakes surface nearby to breathe, I began to have doubts about what I was doing. But I still swam on through the emerald green — until, that is, I made contact with reality when a shark began testing me, prodding me in a "bump and bite" attack.
After the realization that he wanted to live, Venter was still faced with an exhausting return swim. In one of the genomic "asides" included in the memoir, he notes his good luck at not having the gene mutation that causes excessive fatigue (or, given what happened to so many of his war buddies, a genetic disposition toward addiction).
---
Daybook is contributed by Steve King, who teaches in the English Department of Memorial University in St. John's, Newfoundland. His literary daybook began as a radio series syndicated nationally in Canada. He can be found online at todayinliterature.com.