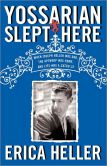 Joseph Heller was born in Brooklyn on this day in 1923. Heller's memoir, Now and Then, published at age seventy-five, is subtitled "From Coney Island to Here." The opening recollection is of the Coney Island carousel, Heller and his childhood friends grabbing for the brass ring. The memoir's closing paragraph describes a very self-satisfied "Here":
I have much to be pleased with, including myself, and I am. I have wanted to succeed, and I have. I look younger than my years, much younger to people who are young, and I am in reasonably good health. My appetite continues heart…. I still have most of a good head of hair and probably I have sufficient income and money to go on living as well as I want to, with enough left over, I feel, to please my few heirs….
Erica Heller, one of those heirs — she is one of Heller's two children from his first, thirty-eight-year marriage — has recently published her own memoir of family life, Yossarian Slept Here. This concludes with a confession, a recipe for pot roast, and a dig at the above excerpt from Heller's memoir: "As I've said, when he blustered and thundered loudest, he was typically on the shakiest ground." Many of the anecdotes in the daughter's frequently humorous book confirm her dubious, squinty-eyed view of her dad, in whose presence "life was a Catch-22."

Erica's confession is that, despite many starts and strategies, she has never been able to read her father's famous novel through. She can't say if the not-reading is "an act of defiance or vengeance, rebellion, or even laziness." Nor can she say exactly why she repeatedly refused her father's pleas to be given the family pot roast recipe. This was initially withheld by Heller's first wife, who was so bitter over his infidelities and the subsequent divorce that, even on her deathbed, she whispered to her daughter, "No matter what, don't ever give him the pot roast recipe." Perhaps she wished to honor her mother's memory, perhaps she wanted to stick it to her father's capacity to forget and ignore:
I believe that what he missed so much ran far deeper than a few shakes of paprika or a couple of sprigs of dill. My father was tone-deaf in most ways, except when it came to whistling past a graveyard. Then his pitch was perfect.
---
Daybook is contributed by Steve King, who teaches in the English Department of Memorial University in St. John's, Newfoundland. His literary daybook began as a radio series syndicated nationally in Canada. He can be found online at todayinliterature.com.