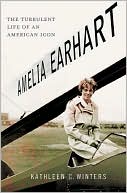 May 21: Amelia Earhart completed the first solo transatlantic flight by a woman on this day in 1932, exactly five years after Charles Lindbergh's arrival in Paris made his flight the very first solo crossing by air. Earhart was married to the publisher-promoter George Putnam, and her accomplishment was almost certainly timed to capitalize on Lindbergh's fame. Biographer A. Scott Berg says that Lindbergh knew and liked "Lady Lindy" Earhart, though he was not complimentary about her flying skills, and incredulous that she should so actively seek the publicity from which he ran. But he must have been especially relieved to give her the spotlight after her solo flight, given that she touched down just days after the body of his baby was discovered.
Kathleen Winters's Amelia Earhart: The Turbulent Life of an American Icon (2010) focuses on Earhart's poor piloting habits and her celebrity status, which she used to promote a wide range of interests, whether hers or her sponsors'—equal rights for women, pacifism, statehood for Hawaii, and more. Denice Turner's Writing the Heavenly Frontier (2011) "examines the sky as a metaphorical and political landscape" established by Lindbergh, Earhart, Antoine de Saint-Exupéry and other early aviators. The title-poem of The Last Time I Saw Amelia Earhart (2005), Gabrielle Calvocoressi's first collection, is a multiple-voiced reflection on the pilot's disappearance in 1937, these lines from "George Putnam, husband":
…The last time I saw Amelia Earhart

she was three steps ahead of me,

crossing to the other side

of the street. I almost died trying

to reach her, called her name over

the traffic and when she turned back

it was a young man, startled

by my grasping hand, saying sorry

but I was mistaken. Then she was gone;

clothes sent, car sold, nothing left

to look for. Except airplanes

which are everywhere now

and take me back to her, turning

away from our expectant faces.
---
Daybook is contributed by Steve King, who teaches in the English Department of Memorial University in St. John's, Newfoundland. His literary daybook began as a radio series syndicated nationally in Canada. He can be found online at todayinliterature.com.