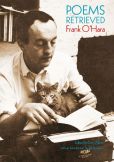 Each year's end, amid the summing-up, the avid reader scratches her head. Which were the best books? Editors assign a number, a genre, a time frame. It is impossible to make a perfect cull. I mention ten books I savored and was grateful for, each of which made me excited about the vibrancy of poetry now and made the year richer. I loved them and hope you will, too.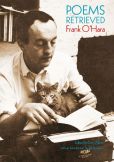 Poems Retrieved, Frank O'Hara (City Lights Books). For those of us who adore the meandering colloquialisms of this quintessential New York School poet, finding this trove of drafts and wanderings is an extra treat. O'Hara's inimitable exuberance pushes through, crafting a poetry that can explode out of almost anything, dramatizing the music of thinking. "The sea was calm and pale. / Almost polite. Whatever / had it meant to us, what / will you mean to me, does / nothing end?" asks O'Hara. He can't answer, of course. Things do end. Thankfully, we get more of him.

If I Should Say I Have Hope, Lynn Melnick (Yes Yes Books). Melnick's prickly debut book is deft, dark, mostly fierce, occasionally forlorn. It is full of briefly glimpsed landscapes, many whirring by in a bleak but radiant California. "Stiff…with wildest lark" Melnick writes, "'are you sure / you want all your money on a pony?' Answer: / 'Yes! I am broken!' " Melnick says that "we're finished with beauty," but her own raw, fresh work belies this claim.


Our Andromeda, Brenda Shaughnessy (Copper Canyon). Here Shaugnessy turns her considerable lyric gifts toward imagining a universe where the pain of her child and her family could be relieved. In crafting this universe, her work reminds us of poetry's role in mediating sometimes impossible longing. Alternately tender and bitter, angry and deft, forthright and caged, these poems show how language plots a way though bittersweet desire and draws us again toward poetry's provisional powers to heal. Shaughnessey writes: "A scratch on the page / is a supernatural act, one twisting / fire out of water blood out of stone. / We can read us. We are not alone."



Landscape Poem Figure Form, Dean Rader (Omnidawn). The poems in this winsome chapbook begin with a homage to Paul Klee that says, "All art is dedicated to joy." Indeed, Rader is once ironic and joyful in a way that speaks familiarly and also sounds unlike anyone else. Funny without being mean, smart without talking down to anyone, accessible without being pandering, these poems are full of quixotic and generous sensibility. "Nothing is harder to believe in / than belief," Rader writes. "..and yet here / we are, / at it again / never really knowing / if we are the arrow / or the bow."



Three Sections, Vijay Seshadri (Graywolf). Seshadri's kaleidoscopic poems peer through stories, calling attention to the way a mind grasps the world through half-narrative, rhythm, rhyme, so that every poem uses language as a mysterious analysis, an encounter with retelling. Echoes are everywhere: Seshadri's work sparks with bits of Plath, Bishop, and Ashbery, but the sidelong gaze is his own. His poems feel like necessary confections: "The simulacra are marching everywhere," Seshadri says, "and deep in the caves the chimera are breathing."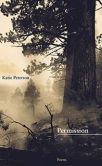 Permission, Katie Peterson (New Issues Press). "Do I think they're the best / because they're the most hidden?" asks Peterson in her opening poem, "Fruit," and then answers, "Of course. Is there / philosophy in that?" Peterson "like / (s) being inside that tangle" which is poetry, and when we are with her we profit from the poem's bower. Her explorations into this lush territory look for urgency and also, often, find it.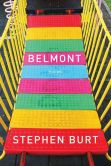 Belmont, Stephen Burt (Graywolf). It is hard to write well of parenthood and suburbia, but Burt manages to imbue the banal quality of a busy, often absurd station in life that is American middle age with something of the twinkling epic. In the poem "To Subarus" Burt addresses the latter–day household god of the station wagon. To it, he writes "you seem to mean / that I will never surprise anybody again. / So studiously unglamorous, at rest / in our one car driveway…" This is wry and compassionate — poetry to sustain us where we are.



Blood, Shane McRae (Noemi Press). By blood, McCrae means blood, like the kind that flows when a runaway slave mother kills her own daughter in a moment that is at once desperate and cruel and full of the hope of freedom. But by blood McCrae also means family, the kind that stretches, across racial lines, the kind that black and white people share in tangled, sometimes painfully conjoined genealogies. McCrae's lyric is compressed, enjambed, foreshortened, and what emerges is a snare drum of tones that capture wonder, pain, and longing. "I do not have a father and I love him," writes McCrae. His book is full of startling, vibrating paradox.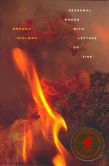 Seasonal Works with Letters on Fire, Brenda Hillman (Wesleyan Press). Seemingly wild, unruly poems from the perspective of a pumpkin or in the voice of marching ants investigate subjects as varied as the Occupy Movement or the life of Nicola Tesla, and raise anew the problem of how to speak beauty in a time of struggle. Hillman's language feels contemporary (even Valley Girl–ish) but is also deeply engaged with tradition, playing on sources as varied as Virgil, Keats, Wordsworth, and Yeats. This work about fire asks how poetry, that dense node of language, can illumine us. Look out world: "Here come / the bandit occupiers: / silence & meaning — "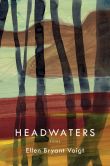 Headwaters, Ellen Bryant Voigt (Norton). Austere yet bubbling, Voigt's lyrics tumble forth in run-on unpunctuated sentences, as poems chart the unexpected turns in both the observed world and in hard-to-chart human relationships. These poems are like cold springs, mimicking abandon but also, it seems, governed by the hidden rules of currents. Their gush calls to mind Elizabeth Bishop's description of knowledge — that it is both flowing and flown…the emblem for wisdom is the same for gratitude," writes Voigt, and we are grateful for her flowing sight.