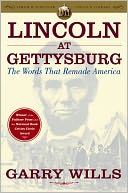 Abraham Lincoln delivered his Gettysburg Address on this day in 1863. Lincoln kept his speech famously short, partly for protocol reasons, given that he had been invited to make only "Remarks" at the dedication of the new war cemetery, while the popular Edward Everett had been asked for an "Oration," this one going on for several hours. In the Prologue to his Lincoln at Gettysburg, historian Gary Wills says that the brevity of Lincoln's speech is better explained by the president's desire to avoid partisanship and, by lifting the recent battle "to a level of abstraction that purges it of grosser matter," to "win the whole Civil War in ideological terms as well as military ones." When Lincoln exchanged the cemetery dedication for the idea of a nation "dedicated to the proposition that all men are created equal," he executed, says Wills, "one of the most daring acts of open-air sleight-of-hand ever witnessed by the unsuspecting":
Everyone in that vast throng of thousands was having his or her intellectual pocket picked. The crowd departed with a new thing in its ideological luggage, that new constitution Lincoln had substituted for the one they had brought there with them. They walked off, from those curving graves on the hillside, under a changed sky, into a different America. Lincoln had revolutionized the Revolution, giving people a new past to live with that would change their future indefinitely.
But not an immediately different America, as the newspapers of the day still managed to play politics. Republican papers reported hearing a speech that had "the charm and power of the very highest eloquence" (Providence Journal), that "will live among the annals of man" (Chicago Tribune); Democratic papers wished to "pass over the silly remarks of the President" (Harrisburg Patriot and Union), for "the cheeks of every American must tingle with shame as he reads the silly, flat, and dishwatery utterances" (Chicago Times).
---
Daybook is contributed by Steve King, who teaches in the English Department of Memorial University in St. John's, Newfoundland. His literary daybook began as a radio series syndicated nationally in Canada. He can be found online at todayinliterature.com.