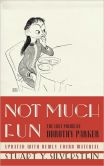 On this day in 1893 Dorothy Parker was born in Long Branch, New Jersey, to Henry and Eliza Rothschild ("My God, no, dear! We'd never even heard of those Rothschilds…"). She was two months premature, allowing her to say that it was the last time she was early for anything. She was also late, in that her mother was forty-two years old, her closest sibling seven years older. These became the preliminary strokes in the "Little Orphan Dottie" portrait that later emerged, not totally without reason. She was her full-grown 4′ 11″ at twelve years old. Her mother died when she was five; her despised stepmother died when she was nine; a string of aunts and uncles were lost early (to heart attack, the insane asylum, the Titanic). Her once-rich father, with whom Dorothy lived, died poor in 1913. All this found her living alone at age twenty, earning a living by playing piano at a dance school, where she honed her talent for light verse and darkly clever lines (which she learned to almost keep to herself, for "a girl's best friend is her mutter").

Parker said that when she began writing she was "following in the exquisite footsteps of Edna St. Vincent Millay, unhappily in my own horrible sneakers." Much of her early, uncollected material was posthumously published in Not Much Fun (1996), this title taken from Parker's purported answer to a bartender's "What are you having?" The later, more famous poetry also conveys the darker side of Parker — the broken relationships, the suicide attempts, the everything-goes-sour-eventually attitude. But also the New York pluck; this is "Prologue to a Saga," a poem that might serve as a birth announcement:
Maidens, gather not the yew,
Leave the glossy myrtle sleeping;
Any lad was born untrue,
Never a one is fit your weeping.

Pretty dears, your tumult cease;
Love's a fardel, burthening double.
Clear your hearts, and have you peace —
Gangway, girls: I'll show you trouble.
---
Daybook is contributed by Steve King, who teaches in the English Department of Memorial University in St. John's, Newfoundland. His literary daybook began as a radio series syndicated nationally in Canada. He can be found online at todayinliterature.com.