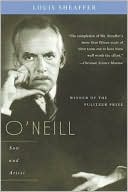 July 22: On this day in 1941, on his twelfth wedding anniversary, Eugene O'Neill presented the just-finished manuscript of Long Day's Journey Into Night to his wife, Carlotta. Accompanying the manuscript was O'Neill's letter of dedication:
Dearest: I give you the original script of this play of old sorrow, written in tears and blood. A sadly inappropriate gift, it would seem, for a day celebrating happiness. But you will understand. I mean it as a tribute to your love and tenderness which gave me the faith in love that enabled me to face my dead at last and write this play—write it with deep pity and understanding and forgiveness for all the four haunted Tyrones. These twelve years, Beloved One, have been a Journey into Light—into love….
Attached to the manuscript later were O'Neill's instructions, these communicated to both Carlotta and to Bennett Cerf at Random House, that the play could not be published until twenty-five years after his death, and not performed ever. O'Neill said that he liked the play better than his others, but that it had been an agony to face the family memories which had inspired characters who were "trapped within each other by the past, each guilty and at the same time innocent, scorning, loving, pitying each other, understanding and yet not understanding at all, forgiving but still doomed never to be able to forget." The ban was to be a safety net: he had wrestled the family ghosts into great art, and he did not want them soon given a chance to go walking.
Just three years after her husband's death in 1953, Carlotta had Long Day's Journey on stage. She pointed to the disintegration of the family which O'Neill's ban was intended to protect—Eugene Jr. dead by suicide, Jamie lost to heroin, Oona disinherited for having married Charlie Chaplin—and to a claim that O'Neill had given her permission to publish should she need the money; the biographers point to Carlotta's inflated view of herself and her needs. In any case, the play drew tears and standing ovations, and brought O'Neill a posthumous Pulitzer, his fourth.
---
Daybook is contributed by Steve King, who teaches in the English Department of Memorial University in St. John's, Newfoundland. His literary daybook began as a radio series syndicated nationally in Canada. He can be found online at todayinliterature.com.