Every month in this space Greil Marcus offers ten findings from the world of music, books, film, and beyond.

1. Sleater-Kinney, No Cities to Love (Sub Pop). Guitarists and singers Corin Tucker and Carrie Brownstein formed Sleater-Kinney in Olympia, Washington, in 1994; drummer Janet Weiss joined in 1996. Twelve years after their last album and eight years since they last played a show, they sound as fresh and surprising — as unlikely, and as unsatisfied — as they did with Call the Doctor, Dig Me Out, or All Hands on the Bad One. The blast of fury that begins with the first seconds of the first song picks up force through "Price Tag," "Fangless" (Yeah, you say after the doubled voices are cut off with a note that feels like a slap, right), and "Surface Envy." A cloud of anger and hopelessness hangs over the music, even as whispers appear amid shouts, a stutter-step beat breaks the heedlessness of the opening numbers, echoes of the Shangri-Las and Patti Smith emerge in the singing — as you realize that "Hey Darling" could actually be something the band has never had, a radio song. You begin to hear the drumming as the most precise, knowing, furious, unforgiving voice of all. And then you hear Brownstein's and Tucker's quiet, reflective last notes coming off of Tucker's enraged deep-breaths at the end of "Bury Our Friends," and the fact of death Tucker has been railing against takes the song away from her — Yell all you want, sister, Death says, I was here before you got here and I'll be here when you're gone.   But that's not the end of the record. That is "Fade," which starts where Nirvana left off, the counter-point guitars and the high, trilling singing all but promising that this part of the Sleater-Kinney story is only at its start.
2. New Pornographers at Hammerstein Ballroom (New York, November 17). Every time I see them I break into a smile and it never leaves. Especially in their most painful moments — when Neko Case draws back for the line "That is the custom," the feeling of faith and idealism is overwhelming, and overwhelming because as the phrase is turned you understand how completely faith and idealism can disappear — their music is a celebration of life. Its complexity recalls the Gang of Four, but with seven or eight people on stage they can seem less like a band than a tribe, which is why when Dan Bejar deigns to stroll out and favor the crowd and the rest of the group with a tune, the gesture rings hollow, despite how good he is (he knows). The melodies are nimble, and they don't seem to start with any one person. All sounds swirl — even a guitar solo feels as if it's coming from the group. "You guys are so wonderful," someone shouted from the audience. "Thank you."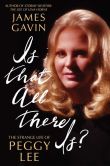 3. Spencer Day, "Why Don't You Do Right" and the New Standards, "Fever," at "Downtown Sings Peggy Lee: A Book Launch Celebration" at Joe's Pub (New York, November 10). For James Gavin's Is That All There Is? The Strange Life of Peggy Lee (Atria), Day, all scarves hung on an elegantly Praying Mantis frame, wove his way through one of Lee's signature tunes, less singing the song than breathing it: it had no beginning, it had no end, it merely floated off into the air as he left the stage. Pianist Chan Poling of the New Standards, a trio from Minneapolis — with Steve Roehm on vibes and bassist John Munson — attacked "Fever" as if it were a wild animal, which had to be tracked, circled, and finally trapped, all with a demeanor of calm and menace, all good will burnt off like a bad tattoo. Both singers made you want to read the book.
4. Edvard Munch Room, Nasjonalmuseet, Oslo, (July 18). There's a small crowd in front of one of Munch's versions of his Madonna (1894-95). There's no one in front of The Day After. In a city where you see women on the street so blonde they've gone to some dimension of color beyond white, Madonna is the dark-haired sex demon, her arms behind her head and back, head lolling to the side, a line of red under the left breast, as if someone — she herself? — has tried to cut it off. It's the sexiest image in the world. It's all power, command, and most threateningly knowledge, the face of someone who has seen all around life, existence, and history.
In The Day After, a Bohemian dream painted around the same time, a woman lies prostrate on a bed, bottles on a table at the side. Her dark hair tumbles off the bed. One knee is bent and the leg raised; she's unconscious or she doesn't care. Her white blouse is open — there's a streak of red down the middle, and below her breasts a smear of blood, or a symbolic scarlet letter. They're the same woman, certainly, sacred and profane, mythical and real, and all that, but the sense of the link, or the identity of the two, is at once stronger and more prosaic. Each is dreaming of the other. Each is the fantasy of the other. Each is living out the life the other most wants.
A few days later we were checking into a dismal hotel in Bergen. The front desk was a tiny stand in a narrow corridor, with, on the left wall, a huge and gross remake of Norway's most famous painting, Munch's The Scream. Waiting for someone to show up, wondering if there was a buzzer or a bell or if you should just shout, you looked at the picture and said to yourself, yes, that's exactly right.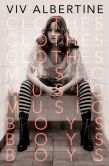 5/6/7. Viv Albertine, Clothes Clothes Clothes Music Music Music Boys Boys Boys (Thomas Dunne Books), The Vermillion Border (Cadiz, 2012); Mark Paytress, "Viv Albertine," Mojo (August). Albertine's blazing, rueful memoir about her time in the Slits in late-seventies London, her marriage, her years in the wilderness in a lovely house, her rediscovery of her own punk guitarist's fingers, is summed up by her last exchange with interviewer Mark Paytress. He mentions her writing that "because I grew up with music that was trying to change the world that's what I still expect from it" and that the singer she'd most like to sound like is Karen Carpenter, then offers a meliorative cliché: "Perhaps love and music work best as music in the head?" Albertine, who turned sixty this month, comes back as a Slit, when she and the other women in the band used to go up to strangers and tell them that they way they dressed or sang or talked was holding women back: "Except those love songs aren't a revolution; they keep you down, like bundles of sweets with poison inside, I've been utterly brainwashed. I can't undo that conditioning. All those love songs are a curse. When I hear them, I think, Please don't let that keep going into girls' heads." The solo album Albertine made two years ago is of a piece with those words, and her book. She makes the sound of a real person living a real life, and with an irreducible element of art, of fashioning, of fiction, always figuring in the songs. "I Want More," "Confessions of a MILF," "Don't Believe," "Little Girl in a Box" — these pieces aren't autobiography, they're experience translated into the sardonic. Until the last number, "Still England," a chirpy run-down of heroes from Emmeline Pankhurst to Sally Potter — scores of them — that's the flipside of the chapter near the end of Clothes Clothes Clothes titled "Lives Well Lived": Albertine's obituaries for old comrades Malcolm McLaren, Steve New, Ari Up, and Poly Styrene.

8. Mark Ruffalo and Kiera Knightley in Begin Again, written and directed by John Carney (Weinstein Company). In his best romantic roles — In the Cut, Life Without Me, The Kids Are Alright — Mark Ruffalo carries a unique authority, maybe because when he walks into a situation he makes you believe he doesn't want it, wouldn't know what to do with it if he did. It works in Begin Again, where his character has lost whatever authority he had; all he can do is act big, with the fear coming through like a sunbeam full of dust. Keira Knightley's hopeful singer-songwriter is talking to his fallen record company hot shot. "I just think that an A & R man telling people how they should dress, or come across, is total bullshit," she says. "People don't want that, they want authenticity." "OK, babe," Ruffalo says, that babe meant to take away whatever authority she might have. "Authenticity. Give me the name of one artist who you think passes your authenticity test." Knightley thinks for her answer, gets it, lifts her head in a smug, that's-all-she-wrote toss: "Dylan." "Dylan," Ruffalo says, letting you know he's heard it a thousand times. "That is the most cultivated artist that you could have thought of. Look at his hair, his sunglasses, he changes his look every decade — " Knightley's face goes blank, then lights up: "Randy Newman." "I fucking love Randy Newman," Ruffalo says, sick of the game he's playing, happy to lose. "You got me on that."
9. Edward Weston, Nude (about 1918), in "Truth and Beauty: Pictorialist Photography," Boston (Museum of Fine Arts, December 5). Made, the wall card said, "when Weston's social circle was growing more bohemian": with hooded eyes glowing in the shadows cast by her tangled hair, the model looks at the photographer so fiercely you can imagine him bursting into flames. It could be Weston's attempt to translate Munch's Madonna into silver. But it also looks frighteningly like Barbara Stanwyck, and though it couldn't be — Stanwyck was in New York when Weston was, but she was only eleven in 1918 — the picture foreshadows everything she would bring to the movies no one else did.
10. Bob Dylan at Beacon Theater, New York (December 3). There were many centers of gravity, where songs took on a new depth, where you could hear them as unfinished stories — of a piece with what Dylan did on November 23, when, before a show in Philadelphia he played a four-song set for a single audience member (Swedish TV stunt, don't ask), and the highlight was a slow, ruminative version of Fats Domino's "Blueberry Hill" so full of death it would have sounded just right on Time Out of Mind. At the Beacon, the first crack in the ice that can form around familiar songs came with "Workingman's Blues," the melody pulled out, the pace ground down — all a look back, to when the word workingman had some dignity. Here the "sing a little bit of these the workingman's blues" hit home, because now that's all anyone can expect: nothing. "Pay in Blood" came off like a Clint Eastwood spaghetti western. "Tangled Up in Blue" was a novel, seeming longer than any time before, truly tangled, turning into the rambling yarn of "New Danville Girl." Dylan stretched lines out. "Soooooon to be divorced" took pleasure in pure music-making — and it was the first hint of the expansive, four-lane-highway voice he was holding in reserve. "Lovesick" had a harsh, south-of-the-border feel, a sense of the nighttime opening of Touch of Evil. "Highwater" was almost a comedy by comparison — because it really is funny. But it was the comedy of a survivor sneering at those who didn't make it: this song will never hit bottom. There was the violin-led chamber music of the great "Forgetful Heart" — its roots in Arthur Smith's 1938 "Adieu False Heart" came to the surface as never before. There was "Scarlet Town," a mystery about time and place that's a thing in itself, with "the streets have names that you can't pronounce" — and the guy who's telling you this was born there.
The killer was "Long and Wasted Years." It was presented as such, with Dylan strutting back and forth, setting the stage for something big. And it was big — the music, but mostly the voice. It was bigger verse by verse, huge, then enormous, then too big for the hall, not a crack in tone, a voice that wore the lives it had lived like old clothes, a voice with a hint of snake oil — the carny barker of the gods, the medicine-show pitchman whose stuff really does cure all ills, but can also strike you dead, because it can tell the saved from the damned. It was fun, it was transporting, with the feel of a Davy Crockett or Abe Lincoln tall-tale teller in there too — I wrassle with wildcats, I drink the Mississippi dry, I bring the house down.
So it made sense to encore with a supper-club version of "Blowin' in the Wind." The nice, bland setting gave the old warhorse a sting, a bite, it usually hides in its own falsely innocent righteousness. The song itself was always bland, but "Too many people have died" hit home out in this supper club, because you're not supposed to talk about that sort of thing in a place like that.
Thanks to Howard Hampton, Jasmine Hagans and Robert Christgau.