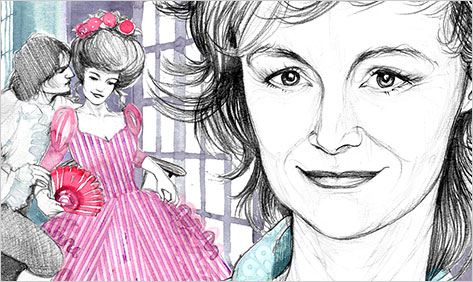 Back when I was a virgin, I really liked reading about virgins. (These days, I spend a lot of time writing about virgins, but that's another story.) Growing up, I gobbled Harlequin Presents –slender little volumes set in foreign locales, antidotes to middle school, doctors for a broken heart. By high school I had a box filled with heroines beloved by sheiks, Australians, Egyptians, Hawaiians…. Any male who wasn't a Minnesota farmer's son with a Norwegian heritage was exotic to me. This month, after sixty years of publishing romances, Harlequin was acquired by HarperCollins. The sale spurred me to visit that merry-go-round again, flying around the world with sexy men from all parts of the globe. Not to mention the virgins they deflowered.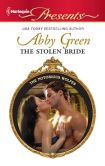 In the series novels I remember, exoticism was dished up by the men. In Elizabeth Hunter's The Sycamore Song, for example (a copy of which still resides on my shelf), a blue-eyed, fair-skinned Englishwoman takes over her father's excavation in Egypt, only to find herself married to the mysteriously delicious Tariq. No longer! The Bollywood movie star Aneesa in Abby Green's The Stolen Bride is described as looking like "an Indian princess from the Mogul empire." Aneesa Adani flees her huge wedding and finds her way to the penthouse suite of a white billionaire who grew up in the English countryside. The exoticism that Tariq supplied in The Sycamore Song is now provided by Aneesa, who finds her sari unwrapped and her hennaed wedding designs examined at extremely close range by that Englishman. The Stolen Bride has all the joie de vivre and sensual exoticism that I remember — but with a distinctly modern sensibility.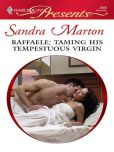 Sandra Marton's Raffaele: Taming His Tempestuous Virgin also pits a Western businessman against a far more exotic heroine, but in this case, both hero and heroine are children of Mafia dons, one American, one Sicilian. Raffaele Orsini prides himself on having earned his billions without ever touching his father's tainted money, but even so, his father coerces him into traveling to Sicily to right an ancient wrong — which turns out to be Dad's theft of a Sicilian Mafioso's fiancée. The Sicilian don demands that Raffaele wed his daughter, Chiara. Before he knows it, Raffaele is married to a woman who dresses all in black, speaks broken English, and is about as friendly as an "attack-trained Rottweiler." Chiara is a terrific heroine: a spitfire who counters every one of Raffaele's alpha, paternalistic reactions: "If we play a round of Twenty Questions, do I win a divorce?" Raffaele thinks it's impossible that Chiara is untouched — "There were no virgins in today's world, not even tucked away in remote towns in the Sicilian hills" — but it turns out he is very wrong. In a twenty-first-century story, sexual innocence becomes the exoticism.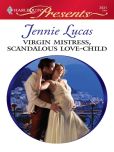 This may be part of the reason why exoticism has switched from hero to heroine: it is difficult to come up with reasons why an American girl raised on Girls and The Jerry Springer Show manages to keep her virginity well into her twenties. In her Virgin Mistress, Scandalous Love-Child, Jennie Lucas confronts the challenge straight on. It never occurs to Lucas's hero, Diogo Serrador, "a dark, ruthless steel tycoon," that the twenty-four-year-old in his bed, Ellie Jensen, might be a virgin. or he would have avoided her: virgins "took lovemaking far too seriously…Plus, they were usually boring in bed." In my opinion — given that she's his employee — he should have avoided Ellie due to the potential of a sexual harassment lawsuit, but instead he seduces her on a business trip to Rio and then drops her like a hot potato. Their conversations highlight another difference from the Harlequin Presents of my youth: birth control was never mentioned by those characters. These days there are rafts of novels in which the hero follows up a brief discussion of STDs with the information that he's had the snip — an operation that promptly fails. Like Aneesa, Ellie Jensen finds herself pregnant after a brief fling with Diogo — a fact she discovers on the eve of her marriage to another man. Talk about conflict!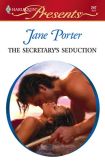 Jane Porter's The Secretary's Seduction features another billionaire who blithely ignores the potential of a legal imbroglio when he sees a woman he wants. The book opens as Winnie Graham stands at the back of a church in a $20,000 silk bridal gown, about to marry her boss — at least until she turns, runs, and dives into a taxi. Winnie has a year on Ellie; she's a twenty-five-year-old virgin who hasn't even been kissed since seventh grade. Winnie explains her virginity by describing herself as a frumpy, dull, plump secretary. Morgan Louis Grady, on the other hand, is extraordinarily beautiful, and beloved of Scandinavian models. Morgan's reasons for a convenient marriage are somewhat obscure, but given that Winnie never makes it to the altar, it hardly matters. He whisks her off to his private island, where she throws off all her clothes to go skinny-dipping, essentially seducing him. Perhaps she lost weight? Perhaps she started anti-anxiety meds? Perhaps it doesn't matter, because Winnie and Morgan are a sexy, combustible example of opposites attracting (I particularly love the moment when he overhears her extolling the book Never Work for a Jerk), and readers will take huge pleasure in their adventures.

It should be clear from the above that, cultural updating aside Harlequin Presents haven't changed much. Mistresses and "Love-Children" mysteriously continue to have currency though one never hears of them in twenty-first-century life; vasectomies fail right and left (generally, the hero admits that he's too busy for follow-up appointments); condoms leak like colanders. And yet Harlequin Presents are just as escapist and fun to read now as they were when I was a frumpy, dull, plump teenager in rural Minnesota. My Nook is now crammed with billionaires from every country including Greece, a breed of men one suspects is as rare as mistresses these days. I highly recommend that you take a break from longer, "single title" romances and plunge into a world of medically challenged millionaires, virtuous virgins, and extraordinarily fertile couples.
---
Eloisa James's latest romance is Three Weeks with Lady X — you can browse all of her books here.

You can check out Eloisa's past columns in the Archives, and if you'd like to get her reactions to romances as she reads them, follow her on Facebook or Twitter.
For sneak peeks at all of Eloisa's romances, please visit her web site at www.eloisajames.com.