Love Rocks is a biweekly look at new self-published romance titles from the community of writers at Rock*ItReads.

In science fiction—at least in the movies or on television—love among the stars often ends badly. Take the iconic heroes of Star Trek. Poor Mr. Spock had to go through a time-travelling portal to an ice age wasteland to experience tender emotions, or endure mind-bending hormonal surges that turned him into one crazy Vulcan. Love didn't work out so well for Captain Kirk, either, since falling in love with him usually amounted to a death sentence.
And Darth Vader? Let's not even go there.
Traditional science fiction books often follow the same pattern, perhaps the result of a genre dominated by male writers who tend to place more emphasis on technology and action than on love. Or, maybe all those sci-fi romances simply disappeared into a wormhole.
Thankfully, the universe abhors a vacuum, and self-published authors are now filling the romance void.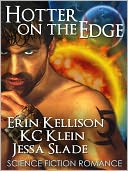 Hotter On The Edge is an anthology of three well-crafted novellas written by Erin Kellison, KC Klein, and Jessa Slade. In each, the hero and heroine are pitted against each other, and the stakes are destruction-of-the-planet high. Under those circumstances, how can they possibly find love?
All That Glitters, by Erin Kellison, features a working class hero. Simon is a miner on a resource rich planet ruled by the ridiculously wealthy Sols. The heroine, xenobiologist Mica Sol, is heir to the family dynasty and Simon's former lover. When events throw them back together, they rediscover their love while fighting terrorists and a possible rebellion. All That Glitters packs a big punch for a novella, with great characters and a good balance between world-building and action.
In Enslaved by Starlight, by Jessa Slade, Benedetta Galil pleads with Captain Corso Deynah, a mercenary ship's captain, to protect her planet from raiders. Benedetta is the last of the l'auraly, legendary beings transformed by crystals into perfect paramours and soul mates. She offers herself to the hard-bitten, loner captain as payment for his protection. But the last thing Corso wants is a sex slave or a soul mate, and he refuses to take the job—until she blackmails him into it. This is a character-driven, multi-layered story with a solid romance. It also had a nice Firefly vibe, which I really enjoyed.
To Buy A Wife, by KC Klein, reads more like dystopian fiction. A grittier, darker tale than the other two, it's an accomplished and well-written story of love overcoming almost impossible odds.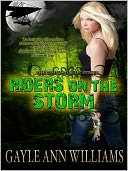 Riders on the Storm by Gayle Ann Williams is a futuristic rather than a straight sci fi romance. Set in the not-too-distant future, the second book in the Tsunami Blue series depicts an Earth decimated and reshaped by a series of massive tidal waves.
The hero of Riders, Finn O'Malley, possesses an uncanny connection to one of nature's elements—the wind. He is the Rider on the storm, the most talented glider pilot the world has ever seen. Unfortunately, in this barely functional society, the skies are dominated by air pirates who terrorize survivors trying to rebuild a new world from the ruins of the old.
The heroine is Sage Pasco, a tracker who harbors a dangerous secret. Her younger half-sister Sammie is the daughter of Rio the Red, the king of the pirates and the man responsible for their mother's death. When Rio's pirates snatch Sammie, Sage must rely on Finn—apparently himself an air pirate—to help rescue Sammie from Rio's nefarious clutches.
Riders features a complex but engaging plot and Williams is a talented writer with a colorful command of language. The heroine is also an enormously likeable character with a wry sense of humor, which Williams tweaks with amusing pop culture references from the pre-tsunami world.
The relationship between Finn and Sage is also satisfying and deeply emotional. Like any good romance hero and heroine, they must overcome many obstacles, including an initial mistrust that threatens both their lives. How Sage, in particular, learns to see past her distrust and open her heart makes for a romantic tale set against a fantastic adventure plot. Add in evocative world-building, and you've got a great read in what's shaping up to be a creative and compelling series.
To sign in and make a comment, click on the Sign In or Register link in the upper right-hand corner of the page, then come back to this page to leave a comment below.


---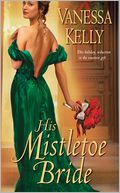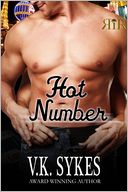 Vanessa Kelly writes award-winning historical romance for Kensington Zebra. Her next book, His Mistletoe Bride, will be released in October. When not penning stories about dashing rakes and pert misses, Vanessa writes contemporary romance with her husband under the pen name of V.K. Sykes. Their latest e-book, Hot Number, came out in April. Visit Vanessa at www.vanessakellyauthor.com.