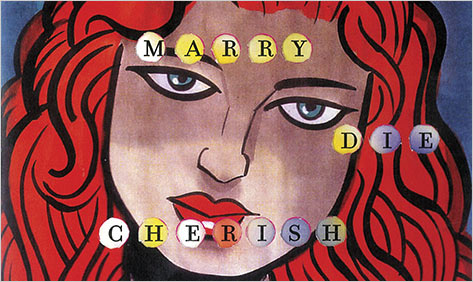 In a 2011 interview with Julie Klausner, writer David Rakoff sang the praises of stoicism. When Rakoff died last August of cancer at age 47, Klausner called Rakoff "a New York saint." Some of the city's other departed artists resemble that remark: Edith Wharton, Robert Mapplethorpe, Jean-Michel Basquiat, Frederick Law Olmsted. Like the Toronto native Rakoff, each made New York better by gracing it with a gimlet eye. But if Rakoff was a saint, he taught us that even we stoics are deserving of one.
Stoicism is often narrowly defined as indifference to joy and woe alike. The title of Rakoff's 2011 essay collection, Half Empty, rather depicts an inner peace with the reality that we all endure hardship and sadness, as well as a self-aware knowledge of pain and pleasure as equally transient. Good Grief, if you will. Rakoff was not apathetic, but reasoned. He knew what Solomon and Lincoln alike knew of all sensations, from rapture to cancer: this too shall pass.
Rakoff finished his fourth book, Love, Dishonor, Marry, Die, Cherish, Perish, mere weeks before dying. His absence is a loss to all who admired his This American Life radio monologues, piercing prose, and off-Broadway collaborations with David and Amy Sedaris (surreal slices of humanity which reminded Manhattan that it is an island of lost toys, built and sustained by eccentrics). But Rakoff's voice is already proving durable — consider his elegant depiction of the writing life, described with zero resentment or hand-wringing as the "precise opposite of hanging out; a deeply lonely and unglamorous task of tolerating oneself long enough to push something out."
Perish is a novel in verse: anapestic tetrameter to be exact. You've heard this rhythm in such children's classics as Clement Clarke Moore's "A Visit from St. Nicholas," Dr. Seuss' Yertle the Turtle, and Eminem's "The Way I Am." The allure of an anapestic work is in its music: Perish would be but a quaint experiment if one couldn't buy into its rhymes and verse. Fortunately, this is a ballad in which cold milk swirls "like taffeta silk." Rakoff threads "virago" to "Chicago," "huge, he" to "Mount Fuji," "adolescence" to "phosphorescence." "Predicaments" precede "ligaments" as swiftly as "stoic" foregoes "heroic." He delights in maneuvering the meter in knowing twists: "O, just like the song says, my heart's San Francisco! / (Suck on that dear, while I work out where this goes…)."
I won't spoil the best lines, except to say that the author's early linking of "erotic" and "despotic" is the most succinct summation of his driving forces. Perish's linked stories each find a character in pursuit of affection, and thus vulnerable to love's piercing slings and arrows. Faced with abandonment, cruelty, prejudice, humiliation, and violence — to say nothing of the horror of living in one's own skin, these modest heroes – the stoics usually peppered into romantic comedies as the sassy sidekicks – shine valiantly upon finding companionship, the chutzpah needed to embrace their beautiful weirdness, or (best of all) an opportunity to be selflessly kind.
Such writing was on the wall in Half Empty, where Rakoff conceded that "…the thrill of the most brilliantly quicksilver aperçu is no match for the self-interested high I get from having done someone a good turn. You'd think I'd do more good turns as a result, but there you go." Perish bares traces of Rakoff's own biography, namely his days as a Japanese translator and later a New York secretary. At the book's center is Clifford, a young artist who learns both to embrace his homosexuality and to use humor as a shield and elixir.
While Rakoff's depiction of one of Perish's characters as "a truth-telling wag: witty, gin-dry, and droll" might serve to describe his own style, Perish triumphs on the strength of its mercies. Rakoff throws both affection and grenades at his characters, salving and salting their wounds. He forgives their vices, while obeying Kurt Vonnegut's commandment that a writer must "make awful things happen to them — in order that the reader may see what they are made of." The gradually revealed familial entanglements of Rakoff's lead characters are slow-burning, their ancestry a mystery decoded over the full twentieth century, when "the years concertina'd."
Lord Byron's 1815 poem "The Destruction of Sennacherib," in which Assyria's warrior king discovers that his soldiers have died before having the chance to seize Jerusalem, employs the same anapestic tetrameter Rakoff took up:
And there lay the rider distorted and pale,

With the dew on his brow, and the rust on his mail:

And the tents were all silent, the banners alone,

The lances unlifted, the trumpet unblown.
It's a fitting emblem for a writer who dies young, instrument still in hand, silenced permanently. But its last note echoes proudly. In Perish, Rakoff pulled off that rarest of authorial feats: his last book is his best.