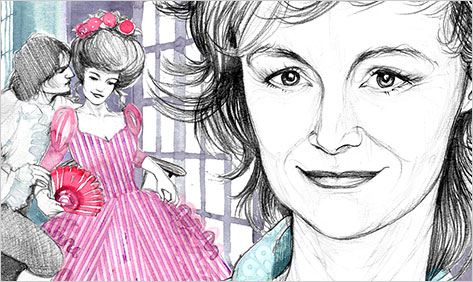 Sometimes it feels as if the U.S. has been at war most of my life, though I know it's not true (the war with Afghanistan is ten years old, in case you're as foggy on the subject as I am). Of course, soldiers are a romance staple no matter our state of hostile engagement: readers love men and women who fight everything from vampires to rival spy agencies, twirling their guns (or lasers) as they single-handedly take down the enemy. But not every soldier can win a war single-handedly, and this column looks at novels with a Catch-22 emphasis on war as larger than the individual. These novels don't aim at realism precisely (Immortally Yours, for one, takes place on a deity-strewn battlefield), but they do pair alpha warriors with Hawkeye's sardonic deflation of battle glory.


Angie Fox's Immortally Yours opens with a M*A*S*H mash-up: "Attention all surgical personal. Attention. Incoming wounded…come and get yours while they're fresh." A clue that we're not in Korea follows: "And will whoever released a kraken in the officers' showers please report to Colonel Kosta's office on the double." The kraken is a practical joke played by Fox's heroine, Dr. Petra Robichaud, a half-fae surgeon with Hawkeye's propensity for cool humor under fire. Petra is a tough, funny heroine who stubbornly battles to heal her demigod patients. But she has a secret: she can see and talk to the dead, a talent punishable by death. It isn't until Petra saves the life of Galen of Delphi, the head of the Greek Hawk Special Forces team, that she realizes her ability may be the key to a cease-fire. Immortally Yours is a wildly creative, sexy love story, full of sniping deities, soul-eating griffins, and heroic medical staff, but with an all-too-mortal surgeon's weariness at its heart: "Sometimes…it felt like all we did here was patch them up so somebody else could blow holes in them again." Don't miss this creative turn on a never-ending dilemma.


Shiloh Walker's Fragile also looks at war's human toll through a medical lens. Fragile opens as Luke Rafferty resigns from the army Rangers, wounded, and determined to be part of the "world out there where people didn't bleed, sweat, and die for their job." Six years later he's an ER doctor, handling every sort of emergency that comes through the door with the laconic fortitude developed during his army career. Devon Manning, a social worker in Luke's hospital, understands that his basic make-up is "more like a warrior than a doctor." The title of the novel, Fragile, refers to Devon's emotional state. But its suspenseful plot springs from the psychological injuries incurred by soldiers. The emotional toll of being a soldier — whose job is both to protect and to kill — takes center stage in this complicated, thoughtful, and ultimately heroic novel. Devon and Luke fight a different kind of war in their struggle to heal civilians; their love presents a triumph of good over evil.


The heroine of Elizabeth Essex's Almost a Scandal also finds herself in the middle of a battle, but the book is set in 1805, when no women were allowed in uniform. Sally Kent's family has served the British Royal Navy for generations; when her younger brother runs away from home, she takes his place on board ship. Almost a Scandal is not a simple cross-dressing drama. Sally, now Mr. Kent, must establish herself in the intricate hierarchies of shipboard life, battling a bully and learning trigonometric navigation. She has an ally: Lieutenant David Colyear sees through her disguise, at the same time reluctantly acknowledging that she's the best midshipman he has on board. Almost a Scandal eschews the balls, gowns, and clever conversation that characterize most Regency romances. But the love affair between Sally Kent, midshipman, and David Colyear, lieutenant, is utterly engrossing and (once Sally and David are sent on a mission to engage the French navy) thrilling as well.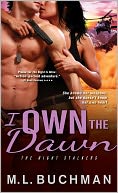 The current war has led to many excellent novels set in Afghanistan, some of which have been reviewed in my earlier columns. M. L. Buchman's I Own the Dawn belongs in the very top rank of that sub-genre. Buchman's heroine, Kee Smith, is a brilliant gunner and sharpshooter, just promoted to a top helicopter unit nicknamed the Night Stalkers. There she meets Archibald Jeffrey Stevenson III, a.k.a. the Professor, her opposite in race, gender, and economic/social status. Archie and Kee are fascinating people whose relationship is both complicated and inspiring. Kee is a tough-talking woman with a heartbreaking background; Archie spends his vacations on a yacht. I read this novel and then sat down and read the whole thing again: you're likely to do the same.

Even if war-torn stories aren't your cup of tea, don't miss these deeply romantic tales in which love triumphs under the most difficult of circumstances.
---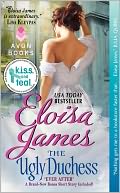 Eloisa James' new romance, The Ugly Duchess, is out now!
You can check out Eloisa's past columns in the Archives, and if you'd like to get her reactions to romances as she reads them, follow her on Facebook or Twitter.
For sneak peeks at all of Eloisa's romances, please visit her web site at www.eloisajames.com.