Love Rocks is a biweekly look at new self-published romance titles from the community of writers at Rock*ItReads.
Are you a reader who commits the "sin" of reading the back of the book before you start reading? I'm angelic in the sense that I always start at the beginning of a book without peeking ahead. I even read series in order as I don't want to miss out on this or that tidbit that makes for a fuller read with each successive book.
Now it's confession time. Recently, I read a series out of order. And it was awesome to become a full-blown sinner when it comes to leaping ahead! So what drove me to risk it all and leap across books in a series? A hero who is as wickedly sinful as they come. But to tell you about him, I have to tell you about the first book's hero.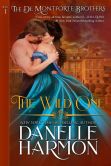 I stumbled onto The Wild One, the first book in Danelle Harmon's, The de Montforte Brothers series quite by accident. The book's premise intrigued me, and I wasn't disappointed in Harmon's execution of the plot. Set in the Georgian era, I found myself enjoying the tale of Juliet Paige and Lord Gareth.
Irresponsible, yet lovable, Gareth wants to be a hero. He just doesn't know how to live up to his eldest brother's, the manipulative Duke of Blackheath, expectations. Juliet, a practical Yankee from Boston, is the perfect foil for Gareth's wild side. When the duke deliberately and artfully sets certain events into motion, Gareth finds himself forced to take on the role of hero.
It's a delightful story with two lovable characters who counter each other's flaws perfectly. But while reading The Wild One, I couldn't stop looking for more scenes with the Duke of Blackheath. The first time he appeared in The Wild One, I loathed him. My loathing quickly changed to curiosity then an all–consuming desire to read the duke's story. Completely out of character for me, I leaped over the other two books in the series to cuddle up in my chair with The Wicked One.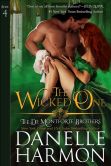 The final installment in Harmon's series, Lucien's story was all I hoped for. Lucien de Montforte, Duke of Blackheath and Eva de la Mouriére are wonderful adversaries. Their first scene together is just the way I like them—steamy and hot. Harmon's description of Lucien makes him swoon-worthy for me.
"There was that same unsmiling face, glowing like Satan's in the candle's flickering light, its orange flame picking out the lofty cheekbones, the chiseled mouth with those hard, sculpted lips, the compelling profile with its noble brow and razor-straight nose."
Dark and dangerous heroes have always been my undoing, and Harmon's wonderful descriptions of Lucien kept me longing for more. But for all his wicked ways, it's the tortured part of Lucien I found so appealing. He's the type of hero you can't help but fall in love with. Eva proved herself up to the task of ending Lucien's patriarchal machinations. There's even a small domination scene where Eva takes charge of their bedroom play. I loved seeing Lucien tied to the bed and hot with need.
All the books in this series are reissues from the late 90s. They have a bit more narrative than you'll find in current historical romances, but Harmon's ability to tell a great story didn't make the expanded narrative an issue for me. I was compelled to keep turning the pages. With only a couple of typos and great formatting, these books made for a pleasurable read. I encourage you to become a sinner with me and read The Wicked One first!
To sign in and make a comment, click on the Sign In or Register link in the upper right-hand corner of the page, then come back to this page to leave a comment below.
---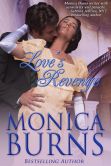 A bestselling author of erotic romance, Monica Burns penned her first short romance story at the age of nine when she selected the pseudonym she uses today. Her historical book awards include the 2011 RT BookReviews Reviewers Choice Award and the 2012 Gayle Wilson Heart of Excellence Award for Pleasure Me. She is also the recipient of the prestigious paranormal romance award, the 2011 PRISM Best of the Best for Assassin's Heart. Her latest release, Love's Revenge is now available.