Love Rocks is a biweekly look at new self-published romance titles from the community of writers at Rock*ItReads.
The days grow colder, nights longer. Halloween decorations fill the shelves, promising fun along with fright, magic with mystery. Out come the vampires and weres, and in paranormal romance, each has their own power to tempt and seduce. In these stories, danger lurks around every corner. Strong protectors use everything they have to hold back the encroaching dark—fists, weapons, wisecracks, and yes, sometimes a kiss. The fights are desperate, stakes high, but ultimately love vanquishes evil when all else seems hopeless and lost. What's not to like?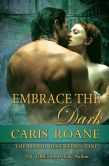 Caris Roane's Embrace the Dark is an escape into a realm parallel to our own, but one where the passions run a little higher and a whole lot hotter. Cupcake store owner Abigail Kirkland is branching out: she's got a shop in Flagstaff, Arizona, and now she's opening one in the magical world of Merhaine. Mastyr Vampire Gerrod is constantly on guard for the Invictus, a scourge on his people, and doesn't have the patience for the human interloper Abigail, who ensnares his senses and gets under his skin. It's the fate of a mastyr vampire to be always starving for blood; he finds that he cannot resist this rare blood rose, a woman who satisfies his every need. But she's from another realm, and he cannot even hope to keep her.
Embrace the Dark, the first in the Blood Rose series, is a dark, sexy read on just the other side of imagination. Gerrod and Abigail set fire to the page. Both are fighters, and when all seemed most bleak, I was rooting for them to overcome. This story is rated SH for Smoking Hot.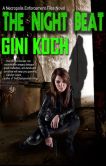 Gini Koch mixes romance with humor and action in The Night Beat. Two universes coexist like flip sides of a coin: Prosaic City, where humankind lives blissfully unaware of the fact that monsters are real; and Necropolis, city of the undead, where the weres, vampires, lichs, and many other creatures make their home. Victoria Wolfe is an undercover cop on the night beat, working for both Prosaic and Undead law enforcement. Her partner, hunky Jack Wagner, is a human to die for; he just doesn't know her true nature. Or does he? Their investigation takes twists and turns, assisted by a motley cast of undeads, including H.P. Lovecraft and Edgar Allen Poe, both professors in Necropolis. But most dangerous and intriguing of all is the romance threading through the story.
The Night Beat is a romance for the urban fantasy lover. It's fast-paced, suspenseful, and full of quick wit. Victoria is a tough fighter, with a vulnerability that makes her almost…human. And her hero is growly enough to make this reader sigh. The story is rated DL, for Dangerous Liaison. Literally.
To sign in and make a comment, click on the Sign In or Register link in the upper right-hand corner of the page, then come back to this page to leave a comment below.
---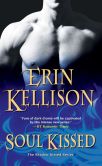 Erin Kellison is the award-winning author of the Shadow series, the Shadow Touch novella series, and the Shadow Kissed series, all of which share the same world, where dark fantasy meets modern fairy tale. RT calls her latest, Soul Kissed, "a dark fairy tale with a twist, perfect for readers who love passion with their fantasy."