Love Rocks is a monthly look at new self-published romance titles from the community of writers at Rock*ItReads.
In summertime, I'm on the hunt for heat. Heat in the air, heat in my romance, heat in big, high stakes stories. Big romance & big adventure.
Today's spotlight stories deliver on both counts. Both are romantic suspense, but because everyone likes their heat to different degrees, I'm giving you one that's heavy on the thriller angle, the other heavy on the sensual heat. But they're both top-notch self-published romance.

First up, the adventure.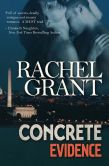 Debut author, Rachel Grant launched on the romantic suspense scene with her first book earlier this spring, Concrete Evidence.
Erica Kessler is a disgraced archeologist hiding her past and she's got a big-time agenda: bring down the men who not only ruined her, but are engaged in international artifact smuggling. The task requires all her attention, so when she gets saddled with a privileged pretty-boy intern who should have graduated college years ago, but he keeps switching his majors, she is not happy. Extremely not happy. His handsome allure makes her even more unhappy. Sort of.

But Lee Scott is no wanna-be Indiana Jones. He's on the hunt for the artifact smugglers too, a computer whiz sent in in cognito by the company, to discover who's using their company to commit federal crimes, and he needs to do his job quietly and quickly, because one of the owners is about to make a presidential bid. Lucky for him, he thinks he might have just found his most promising suspect: Erica Kesling.

Grant layers on the intrigue and the plot, weaving deeper connections between the characters, raising the stakes as she goes. She treats her readers like they know what they're doing, so you've got to follow along, as information and plot points can get presented in fast succession, and the significance isn't always initially clear. But it all comes together in an explosive ending. The world-building is rich and detailed, and you really get a sense of what it is to be an archeologist in the modern day. Atop this, a large, expanding suspense plot builds and builds.

If you like strong, intricately plotted romantic suspense, with smart, believable characters and high stakes, Rachel Grant is a must-read.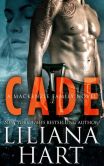 The second book, Cade by Liliana Hart, shines its heat on the sensual side. Way on the sensual heat side. It's scorching hot.

Did I mention it's hot?

Cade MacKenzie has had a tough past; as a DEA agent, a cartel killed his lover. Now he's working to bring them down. All he and his colleagues need is the right bait. Bayleigh Scott is not enamored of her new, clearly outrageous and possible dangerous neighbor. But her body is. The electricity between them is immediate and powerful and never lets up.

The opening prologue is a bit brutal, showing Hart's talent as a storyteller who grabs you and sucks you in. The rest of the story sizzles with emotional and physical intensity between the hero and heroine, Bayleigh and Cade.

Cade makes Bayleigh angry. Very angry. He'll probably have moments of making you angry. He's a bad-boy hero from start to finish. But a core component of the 'bad boy' hero, one of the reasons the trope is so compelling, is that they see through facades. They don't care much for trappings, and they don't have time for calcified rules or limitations imposed by others. Hart makes Cade believable, building the characters so you know where they're coming from. You can feel what it's like to be inside Cade when we're in his head, and you don't forget it when you're in Bayleigh's head. You don't get it; you get it.

Hart writes both erotic romance and romantic suspense, and Cade straddles that line with high, hard heat and big, bad villains. And a big, bad hero to root for.
To sign in and make a comment, click on the Sign In or Register link in the upper right-hand corner of the page, then come back to this page to leave a comment below.
---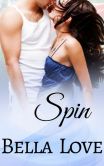 Bella Love is an award-winning, New York published historical romance author writing super-sexy contemporary romances under a pseudonym. Her first self-published romance, Spin, is out now. Find out more about Bella Love at www.bellalovebooks.com. And check out all of the latest releases from Rock*It Reads at www.rockitreads.com.