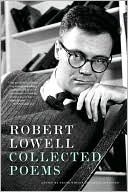 October 13: On this day in 1943 Robert Lowell entered New York City's West StreetJail, convicted of draft evasion. The twenty-six-year-old poet was barelypublished at this point, but because he came from a venerated Boston family theevent made headline news. Looking back, Lowell would describe his stand as "themost decisive thing I ever did, just as a writer." He would also turn thememory into "Memories of West Street and Lepke," a central poem of Life Studies, the 1959 collectionregarded by many as the most important book of American poetry in the secondhalf of the twentieth century.
Lowell's protest wasprincipled, but not that of a pacifist. He had answered earlier draft callswillingly, and had even tried to enlist; on all occasions he had been turneddown because of poor eyesight. There was every reason to think that he would beturned down again at his upcoming recall examination, but in the interim Lowellhad become an even more devout Catholic, and America at war had shown a new "Machiavelliancontempt for the laws of justice and charity between nations." This phraseis from Lowell's "Declaration of Personal Responsibility," mailed toPresident Roosevelt on September 7th and then to 110 other family members,friends, and newspapers. Such comments got him a year and a day at the WestStreet correctional facility.
Often described as thefirst book of the "Confessional School," the Life Studies collection represented a breakthrough in style forLowell, and brought him a National Book Award. But the writing triggered hisfourth and fifth mental breakdowns from manic-depression and, as described hereby biographer Paul Mariani, put him back in jail:
Afraid of shocktreatments, afraid of being locked up again, afraid of what was happening tohim, Cal [Lowell's nickname] appeared to be resisting arrest in the station andwas once again treated roughly by the police, who even refused him water, untilhis friend demanded they stop treating him like some ape. Then he drove Cal outto McLean's, where Cal was admitted, isolated, and stripped to his underwear tokeep him from hurting himself.
Lowell would continue tosuffer from manic-depression, continue to gather awards, and, when the war in Vietnam arrived, continue to protest.
---
Daybook is contributed by Steve King, who teaches in the English Department of Memorial University in St. John's, Newfoundland. His literary daybook began as a radio series syndicated nationally in Canada. He can be found online at todayinliterature.com.