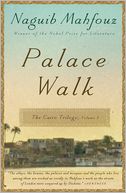 The Nobel Prize-winning Egyptian novelist Naguib Mahfouz was born on this day in 1911. Author of some forty novels and story collections, Mahfouz is reportedly the most-read Arabic novelist both within and outside the Arab world. His epic social chronicles — most notably his Cairo Trilogy (Palace Walk, Palace of Desire, and Sugar Street), which covers much of the first half of the twentieth century — are compared to, and were in fact written in emulation of, those by Dickens, Tolstoy, and Balzac. At the other end of the range, his novella The Day the Leader Was Killed provides a cultural snapshot for the 1981 assassination of Anwar Sadat. One of its central characters, the alienated Elwan, has the options and opinions of those who might have supported the assassins or joined the region's next-generation terrorists:
Where are the good old days?… My pride wounded, my heart broken, I have come to this café as a refuge from the pain of loneliness…. How many nations live side by side in this one nation of ours? How many millionaires are there? Relatives and parasites? Smugglers and pimps? Shi'ites and Sunnis? –stories far better than A Thousand and One Nights. What do eggs cost today? This is my concern. Yet, as the same time, singers and belly dancers in the nightclubs on Pyramid Road are showered with banknotes and gratuities. What did the imam of the mosque say within earshot of the soldiers of the Central Security Force? There is not one public lavatory in this entire neighborhood…. [Sadat is] a failure — "my friend Begin, my friend Kissinger," is all he can say; his uniform is Hitler's; his act, the act of Charlie Chaplin. He's rented our entire country — furnished — to the United States….
Mahfouz would have been the last person to recommend terrorism. Muslim fundamentalists attacked him verbally for backing the Camp David Accord in 1978, and then his Children of the Alley (a.k.a. Children of Gebelawi) was considered so blasphemous that it was banned in Egypt, and militant cleric Omar Abdul-Rahman pronounced a fatwa against him. This was very nearly carried out in 1994, when the eighty-three-year-old Mahfouz was stabbed in the neck and severely wounded just outside his apartment.

On this day in 1991 Salman Rushdie made his first appearance after three years in hiding from the fatwa against him — the issuing of which would not have been necessary, according to Abdul-Rahman, had Mahfouz been made an example of earlier.
---
Daybook is contributed by Steve King, who teaches in the English Department of Memorial University in St. John's, Newfoundland. His literary daybook began as a radio series syndicated nationally in Canada. He can be found online at todayinliterature.com.