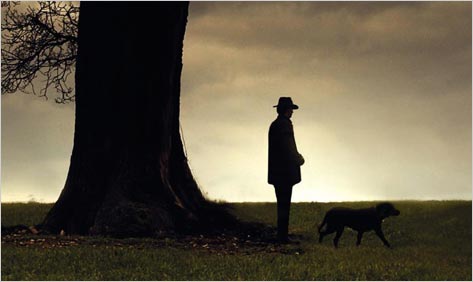 In Scott Spencer's new novel Man in the Woods, ordinary, cheerful, mild-mannered, Paul Phillips, is driving up the Saw Mill River Parkway from New York City one fall day when he decides to pull over at a state park and take a little walk. Arriving at a clearing in the trees, Paul discovers a man mistreating a dog. He rushes to the animal's defense, a struggle ensues, and Paul kills the dog's owner. With that single act, Paul's moral universe is shattered and his life is transformed. But, to what extent is Paul really guilty of murder for protecting a defenseless animal? Must he pay the full price for taking this cruel man's life? Or, maybe he can get away with it?
Scott Spencer once wrote that it was time for the American novel to awaken "from its long swoon of self-effacement" and return to its traditional subjects of "character and story," to once again confront "the big themes of history, family life," and so on. And to his credit, Spencer, the author of the novel Endless Love, about a teenage boy's infatuation with a girl that leads him to burn down her house, has in recent years bravely taken up his own challenge.
In Man in the Woods, Spencer wrestles with nothing less than the nature of Christianity and the notion of Jesus and His forgiveness for our sins, an unusual gambit for any contemporary mainstream novelist, most of whom are decidedly secular in their concerns. For this book, he brings back the characters of Kate and her daughter, Ruby, from his 2003 novel, A Ship Made of Paper, which dealt with racism and inter-racial love. Like that story, Man in the Woods is set in Leyden, a bucolic spot in the far northern suburbs of New York, where several of Spencer's novels have taken place, and a stand-in for his own quaint hometown of Rhinebeck in New York's Hudson Valley, about two hours north of the City.
In A Ship Made of Paper, Kate was an alcoholic whose white boyfriend was stepping out on her with a black woman. Now in recovery, Kate is living with Ruby and her new boyfriend, Paul, a carpenter. She is making a fortune from a book recounting her experiences of converting to Christianity and going on the wagon. Entitled Prays Well With Others—it seems to be sort of an Eat, Pray, Love for drinkers.
Kate and the divinely sexy and kind Paul have a near perfect existence in Leyden, a place populated by young professionals who can afford to live in the large, comfortable, old farmhouses with their newly-renovated kitchens amid acres of pristine woodland. They are a fortunate bunch who need make only occasional working forays down to New York. And Paul is an ideal boyfriend, a kind of stand-in for Mellors, the gamekeeper in Lady Chatterley's Lover. He makes wonderful love to Kate, has a workshop with only a woodstove for heat, builds Kate a lovely studio, and collects, plain, solid 125 year old step ladders—though, Spencer tells us, he does have dirty fingernails. He earns a good living renovating the homes of rich artists and the local gentry, and faithfully attends events at his almost-stepdaughter, Ruby's private school, in one of the old river mansions. But basically, what Paul likes best in life is "eating, drinking, sex, air, freedom."
These pleasurable pursuits are upended when Paul encounters the dog and his master in the park. Earlier, Spencer has created a palpable dread in the reader, and in the animal, at the fate that surely awaits the beast. When the dog's cruel master takes up his leash in preparation for an outing, the "dog scrambles up, tail wagging, but with a cringing, uncertain quality to his excitement, squirming and bowing."
After Paul kills the man, he tries to dump the dog, (or "God," spelled backwards, as Paul notes), who is the only witness to his crime. But the animal, who is an aged, cozy creature "laboriously gets up, section by section, and when he is standing at last he gazes at Paul." Paul can't help himself. He decides to take it home with him. The dog drops the stick he is carrying, and with "a quick lilac flash, a deep yet cryptic intimacy," licks his rescuer's hand. The dog is irresistible, the best character in the book—and Spencer is obviously a close observer of canines.
The novel's human characters, however, with their smug, affluent existences, their faux, rural sequestrations, are less appealing. Kate is especially annoying, with her newfound Christianity, which manages to bypass some of the stricter exhortations of the traditional faith, permitting the taking of the Lord's name in vain, for instance, living "in sin," and occasionally, having kinky sex.
Perhaps this is intentional and Spencer is telling us you can't have it halfway. Indeed, the residents of Leyden are living in a fantasy of rural innocence, cushioned by those 21st-century kitchens. Suburbanization is encroaching on their piney woods, and the noise from the airplanes heading for nearby airports intrudes on the peace of the huge state park at the city's edge.
Eventually, Paul feels compelled to confess the murder to Kate. The couple makes a decision not to tell anyone and that Paul should not turn himself in. But the deed begins to take a toll on their lives, and to erode the contentment of the household. Ruby, particularly, despite the assiduous devotion of her mother and Paul, shows disturbing signs of dislocation and disaffection. And, just as we think that, finally, the question of Paul's culpability may have been resolved, there is a surprise. It is an ending that, to Spencer's credit, jolts us as wide awake as any novelist could want.