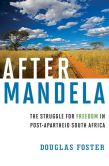 Alan Paton was born on this day in 1903. In 1969, two decades after the publication of Cry, the Beloved Country and two years after the death of his beloved wife, Paton reflected that his international bestseller had "opened the doors of the world to us, and we went through." Recent books on modern South Africa wonder what sort of world path the country is on, the choice captured in the "parallel universe" described by Douglas Foster in the opening paragraphs of After Mandela: The Struggle for Freedom in Post-Apartheid South Africa (2012). As Foster drives into Cape Town from the airport, he notes that those headed to the high-class tourist destinations and the Rolls-Royce dealerships must pass through shantytowns full of children with nothing better to do than play chicken with the traffic. The contrast recurs at almost every corner:
Up on Long Street, near the hostel where we would be staying, cafes and clubs overflowed with people dressed in designer-label clothes. The image of Thabo Mbeki, Nelson Mandela's successor as president, was plastered on utility poles up and down the alleys and streets. Campaign posters for the ANC showed him dressed in a dark business suit, smiling shyly beneath the governing party's ubiquitous slogan: "A Better Life for All."

An unruly clutch of street kids wrapped in tattered blankets shouted in the background as more fortunate people were ordering skinny lattes and tramezzini. The kids latched onto us before we could find our footing at the curb. "Captain! Master! Baas!" they cried, using the old Afrikaans word for white boss. "We're hungry, Baas!" It startled us to be implicated, right from the beginning, in the language of oppression.
---
Daybook is contributed by Steve King, who teaches in the English Department of Memorial University in St. John's, Newfoundland. His literary daybook began as a radio series syndicated nationally in Canada. He can be found online at todayinliterature.com.