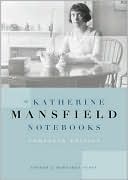 October 14: Katherine Mansfield was born on this day in 1888. Like those of Keatsand Chekhov, who also died young of tuberculosis, Mansfield's notebooks,journals, and letters are prized almost as highly as her other writing—this is especiallytrue since the 2002 publication of the unexpurgated Katherine Mansfield Notebooks. The journal excerpt below is from anAugust, 1922 entry, just as Mansfield, desperately ill, is contemplatingentering the "Institute for Harmonious Development" run by themystic, Gurdjieff. Some of Mansfield's friends told her that the Institute wasa scam; she told them that she had always refused what most people accepted,including "the idea that Life must be a lesser thing than we were capableof imagining it to be":
…I had the feeling thatthe same thing happened to nearly everybody whom I knew and whom I did notknow. No sooner was their youth, with the little force and impetuscharacteristic of youth, done, than they stopped growing. At the very momentthat one felt that now was the time to gather oneself together, to use one'swhole strength, to take control, to be an adult, in fact, they seemed contentto swap the darling wish of their hearts for innumerable little wishes…. Theydeceived themselves, of course.
A similar spirit runsthroughout the last entries in Mansfield's journal—the very last one made onthis day in 1922, her thirty-fourth birthday and the evening before she enteredthe Institute, where she died three months later:
Now, Katherine, what doyou mean by health? And what doyou want it for?

Answer: By health I mean the power to live afull, adult, living, breathing life in close contact with what I love—the earthand the wonders thereof—the sea—the sun…. Then I want to work. At what? I want so to live that I work with my hands and my feelingand my brain. I want a garden, asmall house, grass, animals, books, pictures, music. And out of this, the expression of this. …[W]arm, eager,living life—to be rooted in life—to learn, to desire to know, to feel, tothink, to act. That is what Iwant. And nothing less. That is what I must try for….

How can you hesitate?Risk! Risk anything! Care no more for the opinions ofothers, for those voices. Do the hardestthing on earth for you. Act foryourself. Face the truth.
---
Daybook is contributed by Steve King, who teaches in the English Department of Memorial University in St. John's, Newfoundland. His literary daybook began as a radio series syndicated nationally in Canada. He can be found online at todayinliterature.com.