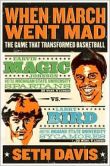 The first NCAA Basketball Championship concluded on this day in 1939, the University of Oregon Ducks defeating the Ohio State Buckeyes by a score of 46–33. With just eight teams and no national media coverage, the first tournament was not the modern "March Madness," but coincidentally the term was also coined in 1939, by Illinois teacher-coach Henry V. Porter. The reference came in an essay describing the frenzied fans of the state's year-end high school tournament; a few years later, just after Pearl Harbor and all that followed, Porter returned to his theme in the inspirational poem "The Basketball Ides of March":
…With war nerves tense, the final defense
Is the courage, strength and will
In a million lives where freedom thrives
And liberty lingers still.
Now eagles fly and heroes die
Beneath some foreign arch
Let their sons tread where hate is dead
In a happy Madness of March.
It wasn't until the early '80s that "March Madness" was applied to college hoops, and became a reality. According to Seth Davis in When March Went Mad (2009), the beginning of the mania can be dated to the 1979 tournament — specifically, as his subtitle puts it, to "The Game That Transformed Basketball," a match-up of Larry Bird's Indiana State against Magic Johnson's Michigan State in the final. The game got a 24.1 Nielsen rating, by far the highest for any game in basketball history.

Davis attributes some of this to the media hype, but he also notes the "dramatic story line ripped out of the Old Testament" (Indiana State the David to Michigan State's Goliath), and the ironic fact that Bird and Johnson played the game the old-fashioned way — if not "the way it was meant to be played," at least differently than the modern one-on-one, dunk-and-dominate style:
Most of all, America tuned in to the 1979 NCAA championship game in record numbers because people understood that these two young men played a unique, exquisite style of basketball. It wasn't their physical gifts that drew folks in. Magic and Bird weren't especially quick or agile, and neither man would be a candidate for the high jump. Yet they were intense competitors and great thinkers on the court. Those qualities manifested themselves in the prettiest play of all: the pass. More than anything, Magic and Bird were great passers. They were truly something to see.
---
Daybook is contributed by Steve King, who teaches in the English Department of Memorial University in St. John's, Newfoundland. His literary daybook began as a radio series syndicated nationally in Canada. He can be found online at todayinliterature.com.