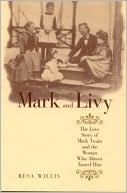 Mark Twain married Olivia Langdon on this day in 1870. When the two began courting thirteen months earlier, Livy was a twenty-three-year-old semi-invalid with waning hope of finding full health or a suitable husband. Twain was ten years older and a rising star, his fame built upon his travel book Innocents Abroad, just published, and his popularity as a speaker, self-promoted as the "Wild Humorist of the Pacific Slope." He apparently tried to move the winning, wild-man style from the lecture hall to the Langdons' drawing room. After his first unchaperoned night with Olivia and several of her female friends, Twain proudly reported to his mother that he had "deviled the life out of those girls" with his party humor and his travel tales — the "variegated vagabondizing" he was just then polishing up for Roughing It. But Olivia had her doubts and her proprieties, and when Twain rushed to a marriage proposal he was immediately rejected.

Many of the 200 letters exchanged over the next thirteen months of courtship show how Twain cleverly advanced his suit by capitalizing on his wild-man image in a new way. Instead of denying his rough edges he confessed them, then applied for a course in smoothing. "I will so mend my conduct," he writes in a typical letter, "that I shall grow worthier of your prayers, & your good will & sisterly solicitude as the days go by." But the unlikely relationship worked both ways, and if Livy was "Dear Gravity" and "The Human Angel" to Twain, he was "Youth" to her, and remained so for their thirty-four years together.

Twain's account of his mining misadventures in Roughing It feature a "Miner's Dream" in which his tumbledown cabin is transformed to a palace of mahogany and French plate glass, complete with billiards room and servants. On his wedding day, Twain struck it similarly rich, receiving from Livy's parents the surprise gift of a three-story home, complete with cook, maids, and uniformed coachman. But here, too, the deal was beneficial for both sides: on the morning of his wedding day, Twain received and proudly displayed a Roughing It royalty check for $4,000.
---
Daybook is contributed by Steve King, who teaches in the English Department of Memorial University in St. John's, Newfoundland. His literary daybook began as a radio series syndicated nationally in Canada. He can be found online at todayinliterature.com.