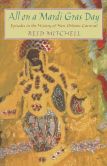 Today is Mardi Gras, a party not always celebrated in literature. Both Tennessee Williams and William Faulkner, each of them once resident in New Orleans, hated what they saw as organized and desperate gaiety. Biographer Joseph Blotner says that Faulkner was so against the "bogus display and vivacity" of the event that, in using it as setting for his 1935 novel Pylon, he intentionally portrayed the sort of Dead City that Eliot portrayed in The Waste Land. At one point Faulkner describes the streetscape as a "lightglared canyon now adrift with serpentine and confetti, through which the floats, bearing grimacing and antic mimes dwarfed chalkwhite and forlorn and contemplated by static curbmass of amazed confettifaces, passed as though through steady rain."
But a twenty-three-year-old Samuel Clemens loved every minute, mask, and madame of it, declaring that "an American has not seen the United States until he has seen Mardi-Gras in New Orleans." Clemens made the St. Louis-New Orleans trip a handful of times while an apprentice pilot; the comment above comes from his March 9, 1859 letter to his sister, written the day after docking in New Orleans and literally bumping into the fun:
I posted off up town yesterday morning as soon as the boat landed, in blissful ignorance of the great day. At the corner of Good-Children and Tchoupitoulas streets, I beheld an apparition! — and my first impulse was to dodge behind a lamp-post. It was a woman — a hay-stack of curtain calico, ten feet high — sweeping majestically down the middle of the street…. Next I saw a girl of eighteen, mounted on a fine horse, and dressed as a Spanish Cavalier, with long rapier, flowing curls, blue-satin doublet and half-breeches…. And then I saw a hundred men, women and children in fine, fancy, splendid, ugly, coarse, ridiculous, grotesque, laughable costumes, and the truth flashed upon me — "This is Mardi-Gras!"
Clemens spends the day wide-eyed, rapt by "giants, Indians,…minstrels, monks, priests, clowns…the 'free-and-easy' women [with] costumes and actions very trying to modest eyes." And then came the night, with the Mystic Krewe of Comus in torchlight procession:
…Then followed tall, grotesque maskers representing some ancient game … then the Queen of the Fairies, with a winged troop of beauties … then the King & Queen of the Genii, I suppose (eight or ten feet high) …followed by a couple of infinitesimal dwarfs … then figures whose bodies were vast drums, trumpets, clarinets, fiddles … followed by others whose bodies were pitchers, punch-bowls, goblets … then gigantic chickens, turkeys, bears, & other beasts and birds — then a big Christmas tree, followed by Santa Claus, with fur cap, short pipe, &c., and surrounded by a great basket filled with toys — and then — well I don't remember half…
---
Daybook is contributed by Steve King, who teaches in the English Department of Memorial University in St. John's, Newfoundland. His literary daybook began as a radio series syndicated nationally in Canada. He can be found online at todayinliterature.com.