Love Rocks is a biweekly look at new self-published romance titles from the community of writers at Rock*ItReads.

There's no shortage of villains in the world, but what if the villains were members of your own family? What if your father, brother, or even your husband was the bad guy, someone who didn't think twice about committing murder?
Welcome to life in the Mafia.
Most romantic suspense novels these days seem to be either police procedurals or serial killer stories, but I recently came across two entertaining thrillers set in the world of organized crime. Both books feature heroines who are part of that world but desperately want to escape it.
Revenge by Dana Delamar takes the standard conventions of the genre and upends them. Kate Andretti is literally married to the mob, something she only discovers when she moves to Italy with her husband Vincent when he's offered a job in his uncle's crime syndicate. When Kate tries to escape Vincent's clutches, he almost kills her.
Stranded in Italy with no money and a husband dead-set on revenge, Kate seeks out the only friend she has — Enrico Lucchesi, wealthy businessman and philanthropist, and the sponsor of the orphanage where Kate works. Enrico is handsome and kind, and since the death of his wife a year ago he's found himself increasingly attracted to Kate. He's the perfect man to help, and Kate instinctively turns to him for protection.
There's just one problem; Enrico is the head of the Lucchesi crime family, sworn enemy of Carlo Andretti, the head of the Andretti clan and Vincent's uncle. It's a great twist and a fun high concept because, really, how do you turn a mobster into a classic romance hero?
Although Kate is an intriguing heroine, this is really Enrico's book. He's a reluctant mafia don, forced into the role by the murder of his older brother at the hands of Carlo Andretti. Enrico is by no means an innocent, but he's trapped by a set of inescapable circumstances. His is an honorable struggle to keep the peace between the warring mafia factions, protect the innocent, and transform his criminal enterprises into legitimate businesses.
Enrico is also a killer when the situation calls for it, but homicide is something he loathes: "The simple truth was that he was still, after all this time, not a killer by choice, but only by necessity. For a mafia don, it was a horrible liability."
Revenge is fast-paced with realistic and vibrant Italian settings. It's a bit sprawling and sometimes veers over the top, but it sweeps the reader up in a gritty, emotional, and surprisingly sensual read. Enrico is a fascinating and ultimately sympathetic hero, and it's completely believable that Kate would fall in love with him. Delamar does a great job of taking an outlandish plot device and making it work.
The Good Daughter, by Diana Layne, is another unconventional romantic suspense novel about a woman trying to break free from her "connected" family. Marisa Peruzzo, a beautiful Mafia princess and the good daughter of the title, despises everything about her life. Her father and brother, capos of the Peruzzo crime syndicate, have abused her for years, selling her innocence off to the highest bidder. They also murdered her fiancé, destroyed her mother, and now threaten her best friend Sandro, a former Italian soccer star. There's no honor in this crime family, and Marisa is determined to exact revenge against her truly evil father and brother.
She seeks help from Dave Armstrong, head of an FBI crime unit in New York City. Dave and Marisa are immediately attracted to each other, although building trust between them is a challenge. That fragile trust is put to the test when Sandro's wife Nia — who also happens to be the woman Dave loved for years — is kidnapped by Carlo Peruzzo.
There are two love stories in this book — the budding one between Dave and Marisa, and the established relationship between Nia and Sandro. Both romantic story lines are well developed and engaging. But what really caught my attention in this book was the masterful depiction of the two female characters, Marisa and Nia. Both are strong, smart, and sympathetic, using their wits and whatever skills they have to survive in dangerous circumstances.
For Marisa, that includes some tips she picked up from her loathsome brother:
"He taught you how to wire a car. He taught you how to build a bomb." Dave's eyes asked the question while his lips held silent.

"Si, la mia famiglia is the definition of dysfunction, no?"

"Remind me not to make you angry," Dave joked.
He's not kidding, since Marisa even goes so far as to wire a bomb to her father's car.
In Revenge and The Good Daughter, Delamar and Layne have crafted absorbing thrillers about the ultimate dysfunctional families and the women who struggle to break free of the mob's deadly grip.
To sign in and make a comment, click on the Sign In or Register link in the upper right-hand corner of the page, then come back to this page to leave a comment below.


---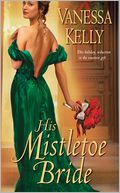 Vanessa Kelly writes award-winning historical romance for Kensington Zebra. Her new book, His Mistletoe Bride, was just released. When not penning stories about dashing rakes and pert misses, Vanessa writes contemporary romance with her husband under the pen name of V.K. Sykes. Visit Vanessa at www.vanessakellyauthor.com or www.vksykes.com.