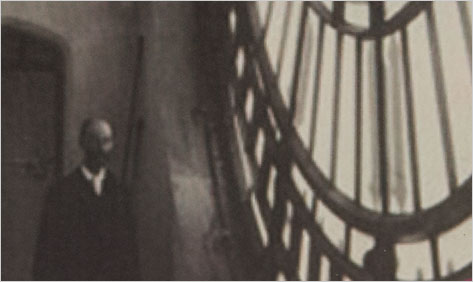 One of the most rewarding aspects of literary exploration is the plenitude of the medium: new relations can pop up without diminishing the standing of prior stakeholders. To read Sigizmund Krzhizhanovsky's Memories of the Future is to enlarge one's conception of the zeitgeist that promoted some of the 20th century's most limpid deliriums. Upon acquainting oneself with the book's seven tales, there is a probability that the forest of visions, inhabited by the likes of Kafka and Borges, will seem of wider circumference.
The story of how Krzhizhanovsky's work came to be published, decades after his death, is but an addition to the roster of neglected genius. The youngest of five siblings born to Polish Catholic parents in Kiev, Krzhizhanovsky (1887-1950) was a precocious youngster who found his way to Kant and Shakespeare. According to translator Joanne Turnbull's introduction, it appears he used the Englishman as a hedge against the philosopher from Königsberg who spurred the author's sense of metaphysical crisis. "Before [reading Kant] it had all seemed so simple: things cast shadows. But now it turned out that shadows cast things, or perhaps things didn't exist at all… [He] erased the fine line between 'I' and 'not I'." With Shakespeare, conversely, he took refuge in "a friend who could protect me from the metaphysical delusion." Krzhizhanovsky's restless narrative experimentation built on this enlightenment of his youth — to the detriment of his later attempts to secure a livelihood under Stalin's regime.
The stories he produced between 1926 and 1930, from which the selections in the present volume — a new translation by Joanne Turnbull — are taken, bustle with humor, paradoxes, and aporias. Their philosophical enchantments call to mind the phrase, "fairytales for dialecticians," which Walter Benjamin applied reverently to Kafka's oeuvre. (Krzhizhanovsky did not encounter it until 1939.) Unsurprisingly, Gorky and the rest of the minders of socialist realism dismissed his fiction as extraneous to the needs of the literary marketplace. "A spy for European culture in the Bolshevik night" was how one critic summarized his outré status in what could be called a backhanded insult. Krzhizhanovsky absorbed these snubs, using them as kindling for his work. (A character in the story "Someone Else's Theme" says, "I know a world where people walk on the sunny side, but only… at night.")
Thematically, Memories of the Future begins with space and ends with time. Like the bulk of the book's (male) protagonists, the lead in the first story "Quadraturin" is able to take in the outlandish with nary a show of head-scratching. While a reasonable survival tactic for living in a bureaucratic state — whose policies appear to be conducted by lunatics (see "Red Snow") — a bit of dithering is customarily advisable when one is asked to partake in a free trial of a paranormal product. Of course, who wouldn't be curious to see if a liquid solution could increase the spatial dimensions of one's abode? Inspired by the overpopulated living conditions that exasperated Muscovites in the aftermath of the Revolution, this portrait of a residential abyss — which trades on the horrors of infinite space — anticipates a book like The House of Leaves.
"The Bookmark" begins as a bibliophilic reflection inspired by the rediscovery of an old bookmark, and then segues into a flow on the art of narrative variation. (Bach is mentioned at one point to underscore the musical analogue.) Sitting on a park bench, the owner of the bookmark becomes a chance audience member to a raconteur — a "theme catcher" who flaunts his imaginative wares. One of his stories relates to a rebellious Eiffel Tower that bolts away from its station. Another to the final hours of cat stranded on the ledge outside of an office building. A bit of grousing flavors the theme catcher's presentation; he denigrates his contemporaries thusly:
To think that people say…we are living in a time of themelessness. They hunt for themes-practically need hounds to do it — and scare up each new series of images with a battue, a throng, when those accursed themes, the devil take them, are everywhere you look. They're like motes in a sunbeam or the mosquitoes over a swamp…
When the narrator bumps into him on another day, he alludes to his new acquaintance's misgivings about contemporary literature. In response, the theme catcher delivers an allegory-which also adumbrates Krzhizhanovsky's predicament in Russia: A girl hurries toward a moving vehicle, clutching a basket to her side; if she puts the basket on the stagecoach, she is left behind; if she gets on, her basket is lost. The allegory of the maid and the stagecoach speaks to the disjunction between cultivating an audience and serving one's vocation. Later, following the conclusion of the theme catcher's most haunting tale — a story that a stingier artist might have launched into the world by itself — the two men part from each other. They are destitute of hope for the future, but undaunted. In lieu of goodbyes, they say: "And even so." Though neither feels the need to articulate the point, the reader is made to feel that art, inept though it may be at abolishing cultural despotism, can outflank it. And that is intrinsically worthwhile.
Besides the titular novella — a tale of time travel that doesn't emphasize travel — the most astral story in this volume is "The Branch Line." A businessman on a train awakens in an orphic land where he espies dreams being mobilized to overthrow reality. A host of jabs are directed at modern life. And a subset of mockery is reserved for life as it was lived in the Soviet context: Thomas More makes a cameo; he ducks into a cellar over which hangs the sign, "Wholesale Supplier of Utopias Since…" In a puff on the utility of nightmares, economic prattle comes in for a goosing:
The main advantage of the heavy industry of nightmares over the light industry of golden threads plunged into brain fibrils, over the production of so-called sweet dreams, is that in marketing our nightmares we can guarantee that they will come true…our nightmares, weighing as they do on the brain, gradually form a sort of moral ceiling that is always about to come crashing down on one's head: some of our customers call this 'world history'. But that's not the point. The point is the durability, unwakeability, high depressiveness and wide availability of our nightmares: mass-market products good for all eras and classes, nighttime and daytime, moonlight and sunlight, closed eyes and open.
And so does that "dream-producing tool," the briefcase:
[T]his, believe me, is a big step forward compared to the ordinary, old fashioned bed pillow…. No need even to trouble your head or close your eyes. Just tuck this thing under your arm, and you-while standing up with your eyes wide open in broad daylight-will sink into the deepest sleep…. Everything will swell up: your liver with ambition, and eventually your brain too will balloon: its convolutions and creases will become smooth and free of
As befits a poet, which was his claim, Krzhizhanovsky prefers to dissolve rather than conclude his stories. On average, he does this by placing the fate of his protagonists in abeyance or by using a resonant non-sequitur to advance rather than curtail the mystery. It was predilections like these that put him at odds with literary gatekeepers of his time. But for all of the arrows directed at benightedness in its various guises, Memories of the Future is not a dour book; it is restorative. Even jaded connoisseurs of fiction may be jolted for the duration of these philosophic adventure tales whose pride, in their own un-timeliness, intersects with an ideal expressed by Deleuze and Guattari in their study, Kafka: Toward a Minor Literature: "to stake out the path of escape in all its positivity, to cross a threshold, to reach a continuum of intensities that are valuable only in themselves, to find a world of pure intensities where all forms come undone…" That's as good a description as any of Krzhizhanovsky's literary skylarking.