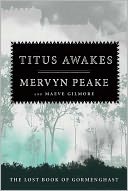 Mervyn Peake was born on this day in 1911. Starting with the acclaimed BBC television miniseries based on the Gormenghast books, Peake's work has received new attention over the last decade. The revival got further momentum with the recent publication of Titus Awakes,a final Gormenghast novel written by Peake's widow from notes and drafts he left behind. The handful of centenary editions coming out this summer will enlarge Peake's reputation from novelist–the London Times placed him on their recent list of "the 50 greatest British writers since 1945"–to poet, children's writer, painter, and illustrator.
Peake died of Parkinson's disease at the age of fifty-seven. Memoirs by his wife and son recall a remarkable man, as eccentric as his work and an embodiment of the line of his poetry inscribed on his gravestone: "To live at all is marvel enough." Sebastian Peake recalls many moments in the spirit of the following, describing family summers on Sark, one of the Channel Islands:
I remember a marvellous game once, where he and I skipped and danced through the Sark house, him with a large wooden frame, and me with a smaller one resting on our right shoulder, being held in place by our right hand, and hopping from one side of the lower part of the frame to the other, with our feet sometimes on the inside and then on the outer sides of the frame. Making wild Red Indian whoops, we went upstairs and down, out into the garden, round the duck pond and in and out…until we had had enough.
Other memories recall long coastal walks on which his parents would invent "Flay, Swelter, Prunesquallor, and other exotic, idiosyncratic onomatopoeic names" for Gormenghast or Peake's other books. Life in London was charmed in other ways:
Peter Ustinov lived almost next door, Carol Reed next to him, and in a building across the road, Augustus John had a studio. I used to go to visit the painter sometimes with both my parents, sometimes just my father…. Dylan Thomas, a friend of the family, would sometimes hold my hand and take me to kindergarten at the end of the road…. Dylan Thomas was not a very important part of my father's life, but one day in 1946, when asked to give a lecture at a fairly august institute in the West End, he asked my father if he could borrow one of his suits. My father obligingly lent him two to see which one fitted, but he never saw either again….
---
Daybook is contributed by Steve King, who teaches in the English Department of Memorial University in St. John's, Newfoundland. His literary daybook began as a radio series syndicated nationally in Canada. He can be found online at todayinliterature.com.