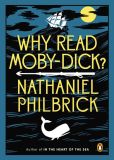 Give me a condor's quill! Give me Vesuvius' crater for an inkstand! Friends, hold my arms! For in the mere act of penning my thoughts of this Leviathan, they weary me, and make me faint with their outreaching comprehensiveness of sweep, as if to include the whole circle of the sciences, and all the generations of whales, and men, and mastodons, past, present, and to come, with all the revolving panoramas of empire on earth, and throughout the whole universe, not excluding its suburbs.… To produce a mighty book, you must choose a mighty theme. No great and enduring volume can ever be written on the flea, though many there be who have tried it.
Herman Melville's Moby-Dick was published on this day in 1851, the excerpt above from Chapter 104. Anyone doubting Melville's thoughts on the sweep of his theme could consult Nathaniel Philbrick's Why Read Moby-Dick?:
Reading Shakespeare, we know what it is like, in any age, to be alive. So it is with Moby-Dick, a novel about a whaling voyage to the Pacific that is also about America racing hell-bent toward the Civil War and so much more. Contained in the pages of Moby-Dick is nothing less than the genetic code of America: all the promises, problems, conflicts, and ideals that contributed to the outbreak of a revolution in 1775 as well as a civil war in 1861 and continue to drive this country's ever-contentious march into the future.
---
Daybook is contributed by Steve King, who teaches in the English Department of Memorial University in St. John's, Newfoundland. His literary daybook began as a radio series syndicated nationally in Canada. He can be found online at todayinliterature.com.