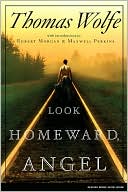 On this day in 1637 Edward King, college friend of John Milton, drowned at sea. Milton published "Lycidas" three months later, giving the elegiac tradition one of its most famous poems and, three centuries later, giving Thomas Wolfe the title to his first and most famous novel. Wolfe's title was originally "Alone, Alone," this taken from The Rime of the Ancient Mariner; it then became O, Lost! (this title restored to the book when the uncut, 700-page edition was published in 2000). But when Wolfe's publisher asked for something more inspired, he decided to borrow from a line near the end of Milton's poem: "Look homeward Angel now, and melt with ruth; / And, O ye Dolphins, waft the hapless youth."
Milton's angel was St. Michael; the statue in Look Homeward, Angel was based on an extravagant Italian import that Wolfe's father had impulsively purchased for his tombstone shop in Asheville, North Carolina. This "stood on the porch, weathering, in all the wind and the rain" for six years, though it eventually marked (and still marks) the grave of the wife of a Methodist minister in the hometown area.
In the novel, the angel is sold to the local madam as a marker for the grave of a young prostitute. Wolfe's hometown did not appreciate such details being included in its unflattering self-portrait, one local paper headlining its book review, "Wolfe's First Is Novel of Revolt: Former Asheville Writer Turns in Fury upon North Carolina and the South." If Wolfe wasn't furious in the book he was soon afterwards at the letters he received:
Apparently you can rob banks, be a crooked lawyer, swill corn whiskey, commit adultery with your neighbor's wife — and be considered a fine, lovable, misunderstood fellow; but if you try to make something true and beautiful you are "viciously insane" and your "big overgrown body" ought to be dragged through the streets by a lynching mob.
By the time Wolfe had finished this 1930 letter to his sister, he had added himself to the elegiac tradition: "If then, I am dead to people who once knew me and cared for me, there is nothing more to say or do — I must go on into a new world and a new life, with love and sorrow for what I have lost."
---
Daybook is contributed by Steve King, who teaches in the English Department of Memorial University in St. John's, Newfoundland. His literary daybook began as a radio series syndicated nationally in Canada. He can be found online at todayinliterature.com.