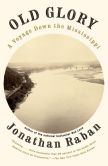 When a circus came and went, it left us all burning to become clowns; the first negro minstrel show that came to our section left us all suffering to try that kind of life; now and then we had a hope that if we lived and were good, God would permit us to be pirates. These ambitions faded out, each in its turn; but the ambition to be a steamboatman always remained.
Mark Twain published "The Boys' Ambition" in The Atlantic Monthly on this day in 1875. This was the first installment in Twain's "Old Times on the Mississippi" magazine series, these articles later published as Life on the Mississippi. As the series appeared a year before Tom Sawyer, this first installment marks the debut of the river setting and the river-boy hero that made Twain famous.

In Old Glory: A Voyage Down the Mississippi, the British travel writer Jonathan Raban says that he was smitten by Twain's river vision at age seven, when he first read Huckleberry Finn. For years he coped with his small local brook in Norfolk, his atlas, and his imagination:
The Mississippi was my best invention; a dream that was always there, like a big friendly room with an open door into which I could wander at will. Once inside it, I was at home. I let the river grow around me until the world consisted of nothing except me and that great comforting gulf of water where catfish rootled and wild fruit hung from the trees of the towhead islands. The river was completely still as the distant shore went inching by. I felt my skin burn in the sun. I smelled sawn timber and blackberries and persimmons. I didn't dare move a muscle for fear of waking from the dream.
And then three decades later, his boy's ambition still alive, Raban lights out for the legendary Twain territory: "The river was just a hundred miles ahead…."
---
Daybook is contributed by Steve King, who teaches in the English Department of Memorial University in St. John's, Newfoundland. His literary daybook began as a radio series syndicated nationally in Canada. He can be found online at todayinliterature.com.