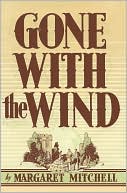 On this day in 1936 Margaret Mitchell's Gone with the Wind was published. Because the novel had been extensively promoted and chosen as the July selection by the Book-of-the-Month Club, it was certain to sell, though few predicted the sustained, record-breaking numbers. As Mitchell and her biographers describe it, fame caught her off guard, and when cornered by it she was too much the hospitable southern lady to protest. One trip to an Atlanta department store for a dress ended with a clutch of curious women throwing back the fitting room doors to stare at her in her petticoat: "They wanted to know the size of my intimate wearing apparel. They screamed to one another about me as I stood there like an animal in a cage, one asking the other: 'Ain't she skinny?' while still another observed: 'I expected her to look more middle-aged around the hips.' " When plans for the movie were underway, she opened her door one day to a white woman who felt that, with the aid of a burnt cork, she could be the ideal Mammy. Mitchell allowed her in for an impromptu audition, "and for forty minutes watched her play Mammy up and down the rug."
Reduced to Hollywood script doctoring, F. Scott Fitzgerald did some work on the movie version of Gone with the Wind. He told his friend and editor Max Perkins that it was like working on "The Gospel According to Margaret":
Do you know in that Gone with the Wind job I was absolutely forbidden to use any words except those of Margaret Mitchell, that is, when new phrases had to be invented one had to thumb through as if it were Scripture and check out phrases of hers which would cover the situation!
About this time, Fitzgerald was working on his unfinished Hollywood novel, The Last Tycoon. His friend Nathanael West had recently published his own book about the movies, The Day of the Locust, and on this day in 1939 he sent Fitzgerald a status report for his novel:
The box score stands: Good reviews — fifteen per cent, bad reviews — twenty five per cent, brutal personal attacks — sixty percent. Sales: practically none. I'll try another one anyway, I guess.
---
Daybook is contributed by Steve King, who teaches in the English Department of Memorial University in St. John's, Newfoundland. His literary daybook began as a radio series syndicated nationally in Canada. He can be found online at todayinliterature.com.