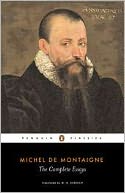 September 13: On this day in 1592 Michel de Montaigne died. Montaigne came from a patrician Bordeaux family which obligated him to many political responsibilities, but in his late thirties he retreated to the tower rooms of the family estate to write the first two books of his Essays. When these were published in 1580, with a third volume following in 1588, they introduced a new literary genre to European letters.
Montaigne's tower retreat or "solitarium" has evolved into something of an icon for bibliophiles, and is today a popular museum for the literary traveler. On the first and second floors, Montaigne had a chapel and a bedroom; on the top floor, in a round, many-windowed room "of sixteen paces in diameter," was his library of 1,000 books. Carved into the roof-beams of the library were forty-eight quotations from Montaigne's own works. The dedicatory carving, given a prominent position above the fireplace, might cause a sigh in all book lovers:
In the year of Christ 1571, at the age of thirty-eight, on the last day of February, anniversary of his birth, Michel de Montaigne, long weary of the servitude of the court and of public enjoyments, while still entire, retired to the bosom of the learned Virgins [Muses], where in calm and freedom from all cares he will spend what little remains of his life now more than half run out. If the fates permit, he will complete this abode, this sweet ancestral retreat, and he has consecrated it to his freedom, tranquility, and leisure.
Montaigne wrote on a wide range of topics—education, cannibals, drunkenness, war-horses, repentance, thumbs—and in a highly readable, thoroughly skeptical way. The roof-beam carvings convey his general frame of mind:
The plague of man is the opinion of knowledge.
I establish nothing. I do not understand. I halt. I examine.
Breath fills a goatskin as opinion fills an hollow head.
Have you seen a man that believes himself wise? Hope that he is a fool.
I am Human, let nothing human be foreign to me.
What inanity is everything!
---
Daybook is contributed by Steve King, who teaches in the English Department of Memorial University in St. John's, Newfoundland. His literary daybook began as a radio series syndicated nationally in Canada. He can be found online at todayinliterature.com.