Exhilaration, heroics, death and laughter atop the world's tallest peaks.
---
By Jim Davidson and Kevin Vaughan
Davidson and his friend Mike Price were coming down Washington State's Mount Rainier when the pair fell 80 feet into a crevasse. The fall killed Price and left Davidson badly injured, stranded on the ledge that gives this harrowing book its title. Against all odds, he crawled to safety. But the joy of making it back was tempered by the loss of his close friend, and Davidson chronicles his conflicted emotions in this story of adventure, grief, and perseverance.
---
By Jon Krakauer
Krakauer's unforgettable and unflinching page-turner set the standard for modern accounts of hubris colliding with the elements. It tells the story of the May 1996 disaster on Mount Everest that left eight people dead. Krakauer was on the mountain that fateful morning, and he shares every last detail of one of Everest's darkest days, including doubts about his own behavior that may have cost a life. This edition is updated with a new postscript that addresses conflicting accounts of the tragedy, especially the bitter debate that arose between Krakauer and Everest guide Anatoli Boukree.
---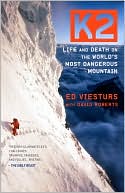 K2: Life and Death on the World's Most Dangerous Mountain
By Ed Viesturs and David Roberts
Although northern Pakistan's K2 isn't as tall as Mount Everest, it's much more difficult–and deadly–to climb. For every four people who have made it to the top, one has died. Viesturs, the modern era's most respected high-altitude climber, shares his firsthand knowledge of the second-tallest mountain in the world, exploring the mountain's history and the fates of the many who have attempted to climb it.
---
By Maurice Herzog
Three years before Sir Edmund Hillary and Tenzing Norgay made history on Everest, Maurice Herzog and Louis Lachenal became the first climbers to summit a peak over 8,000 meters: the avalanche-prone Annapurna. Though the ascent was brutal, it paled in comparison to the trip back down when Herzog, who lost his gloves near the summit, endured frostbite, snow blindness, and near death.
---
By W. E. Bowman
Many of the world's highest peaks were summited in the 1950s and rapturous texts were written about the experiences. Bowman answered with this 1956 satire of the climbing world that follows the hilarious ascent of a Himalayan peak called Rum Doodle in the fictional country of Yogistan. The mountain is exactly 40,000 and 1/2 feet high, which doesn't stop the expedition and its crazy cast of characters from forging ahead despite their ineptitude. When they finally reach the top, they stand triumphant, gazing out at the world from a vantage point afforded to only a brave few–until they realize they've climbed the wrong mountain!