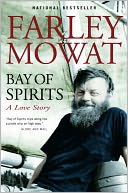 May 12:The Canadian writer and activist Farley Mowat turns ninety today. Mowat'sdozens of books cover a range of settings, issues, and adventures, but hereturns most often to the theme of cultural and environmental degradation. People of the Deer (1952), Mowat's firstbook, is a study of the all-but-extinct Inuit people, the Ihalmiut, based onthe author's mid-century travels in the west Hudson Bay region. Mowat returnedto the area and the topic in TheDesperate People (1959), and then again in Walking on the Land (2000); in his prologueto the last book, Mowat makes no apologies for reiterating his story of theIhalmiut, the "people from beyond":
My principal reason fordoing so is the same as that of writers who continue to tell the story of theHolocaust: to help ensure that man's inhumane acts are not expunged frommemory, thereby easing the way for repetitions of such horrors.
Mowat has also writtenoften about Newfoundland, a place which seems to suit his quirky, independentpersonality. His recent memoir Bay ofSpirits (2006) is "A Love Story" in a double sense, being achronicle of his affection for the island and for his wife, whom he met therein 1957, while exploring the isolated, "outport" communities on theprovince's southern shore. Being "from away," Mowat could not sharethe local dialect, but he strongly identified with the worldview:
By the Lard livin' Jasus,dem mainland fellows is gone foolish as a cut cat! Dey got to tinker wit' every goddam t'ing dere is. And everyt'ingdey tinker wit' goes wrong. And dat, me darlin' man, dat's what dey calls progress! Oh yiss, me son, dey believesdey's de smartest t'ings God put on dis old eart', dem politicians and demscientists and all dem big-moneyed fellers. But I tells ye, bye, de codfish andde caribou be ten times smarter. Dey got de sense to leave well enough be.…Cars, bye, and television. Sewry pipes and hout-board engines. Dem fellows don'tknow no end to what dey wants no more. …Dey wants it all. Mark my words, sorr, and dey gets what dey wants dey's goin'to choke dereselves to deat' on dere own vomit, and likely de whole world wit'dem.
---
Daybook is contributed by Steve King, who teaches in the English Department of Memorial University in St. John's, Newfoundland. His literary daybook began as a radio series syndicated nationally in Canada. He can be found online at todayinliterature.com.