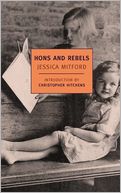 The author and investigative reporter Jessica Mitford was born on this day in 1917. In her first book, Hons and Rebels (also known as Daughters and Rebels), Mitford describes the upbringing that gave her and her sisters their independent spirit — this acquired, to a great extent, in reaction to their father, Lord Redesdale, a.k.a. "the Feudal Remnant" and "one of Nature's Fascists." In Poison Penmanship, recently reprinted as an NYRB classic, Mitford displays that independent spirit in action. The book is partly a collection of Mitford's investigative reporting over two decades, partly a how-to book on "The Gentle Art of Muckraking." In "My Short Happy Life as a Distinguished Professor," Mitford humorously describes her adventures at San Jose State University, teaching a course inspired by her 1963 bestseller on the funeral industry, The American Way of Death:
The lecture course would be called "The American Way," a title vague and flexible enough to enable us to explore the American way of all sorts of things…[and] draw on subjects I already knew about: caskets, courts, convicts, con men, the rise and fall of the Famous Writers School…. The final section would be "Waterbuggers of Yesteryear," the point here being that the Watergate gang and their counterparts of twenty to thirty years ago cut their teeth in the witch-hunt against the left following World War II.… In the section on criminal justice we would bring in as guest lecturers lawyers, judges, and ex-convicts. In short, we hoped the lecture course would turn into something resembling a variety show.
The show took an unexpected and fortuitous turn when, picking up her first batch of mail in the Sociology Department, Mitford received notice "to please go to personnel to take the loyalty oath and be fingerprinted." She threw this in the wastepaper basket, but when a dean and a university lawyer introduced themselves that day at lunch, she took the opening: "I said oh good, I need a lawyer, I just got this absurd note about a loyalty oath and fingerprinting, there's not a word about either in my contract, so please tell your bosses, whoever they are, to cut out the one-line jokes as I don't intend to do any of that."

Over the semester the variety show turned into a three-ring circus — the administration trying to "de-hire" their professor, the student body and some faculty howling in protest, Mitford gleefully reaping new material for her lectures on how to provoke.
---
Daybook is contributed by Steve King, who teaches in the English Department of Memorial University in St. John's, Newfoundland. His literary daybook began as a radio series syndicated nationally in Canada. He can be found online at todayinliterature.com.