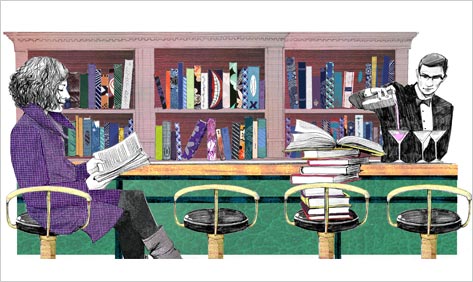 Grab a stool. Yep, I finished it that fast. How? Well, you'd be good at crosswords too, if you'd lived my life.

For instance: How do I know that a small newt is called an EFT? Believe it or not, when I was very young, I used to play with an eft at my great-grandmother's house! She was a bit of an eccentric, but harmless. My great-grandmother, I mean. She had money, and she lived on a beautiful, sizeable estate outside Helena, Montana. She loved newts, because they're less awkward than salamanders. (Also, for that matter, AUKs.) Her home was filled with newts, which had the run of the place. Well, the crawl. When I was four, a particularly bold eft leapt into my lap. I called her Sally. We were inseparable until she was full-grown. I liked to think of her as physically graceful—DEFT. When we finally parted company, I was grief-stricken—BEREFT.

The dog of the Thin Man movies? ASTA, of course. Did I mention that my great-grandmother, Myrna (whom I called "Nana"), occasionally thought she was the actress Myrna Loy? (She claimed she was best friends with OONA, a Chaplin.) She used to regale us with stories of the Hollywood life, and specifically the adventure that was making movies with Bill Powell… and a certain wire-haired terrier named Skippy. What a scamp! Skippy, I mean, who'd played ASTA, not Bill Powell, who'd played Nick Charles, the partner to NORA.

Nana Myrna's property was actually in Radersburg, which is how I know that Radersburg to Helena dir. is NNW. That was something you just didn't want to have to pull over to look up, and you sure as heck didn't want to have to ask someone. Rural Montana isn't an especially friendly place. It wasn't when I would visit, anyway. It was downright EERIE. (On the other hand, Nana also had a vacation home in the very welcoming New York county of ERIE.)

One unfortunate summer, my family indeed took a wrong turn in our station wagon and ended up in Sac and Fox, Iowa. Before we knew what was happening, we seemed to be captives of the OTOE. We were ultimately able to leave the tribal territory after realizing that we in fact were never being held against our will. My older sister, Lori, (then pregnant with the child of an Otoe named OTTO, after both the conductor Klemperer and the filmmaker Preminger), stayed with the tribe when the rest of us left. I'd missed a lot of school, but I did eventually get some community college credit for having become semi-fluent in Chiwere.

In college, I was on the fencing team. My weapon of choice? The dueling sword, designed for thrusting, with the end blunted for competition. Yes, the EPEE. (My guess is that it was never used by AJAX, a Greek hero of the Trojan War, and the son of Telamon, king of Salamis. My high school's athletes were the Trojans; our mascot was a salami.) I got three large jugs with wide mouths for graduation, and I used these EWERS to wash—in fact, LAVE—myself more or less regularly. Before getting a job, I took a week-long trip to Ireland, which Nana obsessively, exclusively referred to as ERIN or EIRE, and where I heard the ancient Celtic language ERSE spoken in a brewpub (the IBEX & IBIS) with its own kiln used to dry hops. On a cold day, you could get plenty warm just sitting near that OAST.

My first job after college was as a neophyte (TYRO) bricklayer. Oddly enough, I had to bring my own V-shaped open trough on a pole, used to carry building materials. That HOD came in handy when I was hired to build an architectural extension—ELL—onto a secret structure in NEV, a state so. of Tex. It was on that job that I first heard the ridiculous talk—all that BLATHER—about UFOs—and the little green men who pilot them, ETs. As I recall, it was also on that job that I tripped and broke the arm bone that the doctor kept calling my ULNA.

During my recovery, I finished reading a terrific autobiographical book by Herman Melville. It takes place on a whaling vessel in the South Seas. There's a mutiny. Most of the crew is imprisoned on Tahiti. You know the book I mean, right? It came after TYPEE, but the title completely slips my mind. Something with an O? Damn it. Nana Myrna would know. She always claimed that she had auditioned for the film version, directed by ELIA Kazan, but the part went to UTA Hagen.

So that's how. Bartender? I'll have another abbr. for the King of Beers. Know what? Make it two. One for me and one for my new BUD.


"We'd vomit bad matzoh, Rick." can be rearranged to spell matthewdavidbrozik.com.