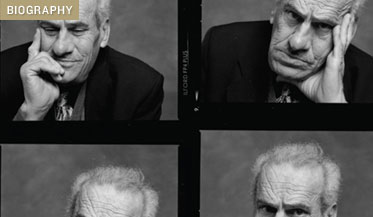 Poetry is what gets lost in translation — and also what slips through the historian's net. The attention of a biographer, after all, tends to be fixed on the facts of a poet's life, rather than on the form of his line. That much I remember from learning to read in the old literary school called New Criticism, which insisted that the meaning of a poem was the poem itself. And for the most part those strictures still ring true.

But the contemporary Palestinian author Taha Muhammad Ali has been wonderfully served by his translators, so that his works in English still have what someone once identified as the defining effect of great poetry, which is to make the hair on the back of your neck stand up. Now, with Adina Hoffman's My Happiness Bears No Relation to Happiness: A Poet's Life in the Palestinian Century, we have a book that enriches the appreciation of his work, rather than using it as an occasion for political commentary on the Middle East. (Not so coincidentally, the poet's biographer is married to Peter Cole, one of the translators of Ali's So What: New and Selected Poems, 1971-2005.)

Born in 1931, Ali was among the refugees when Israel was formed in 1948. His village, called Saffuriyya, was depopulated following air strikes by the new state's military. The villagers scattered, with Ali himself ending up in Lebanon for a while before he managed to sneak back into his homeland. The ambition to write formed in adolescence, well before the events known in Arabic as al-Nakba (the Catastrophe). But his formal education was limited, and the talent for fiction and poetry took a long time to ripen, while Ali's other gift seems to have asserted itself very early on. He had a knack for finding a niche as a small merchant — whether vending food and drink to day laborers in his village, or peddling odds and ends to pedestrians. Hoffman includes photos of the souvenir shop Ali still runs in Nazareth. While known to the world as an author, Ali remains, as he wrlyly puts it, a Muslim businessman who sells Christian mementos to Jewish tourists.

Well, it's a living. But adapting to one's circumstances does not necessarily mean accepting them. Much of the power of Ali's work comes from the sense it conveys of having lost a familiar world in a moment of absolute bewilderment that has never quite abated. In a poem recalling the exodus from his village, he writes:


We did not weep
when we were leaving —
for we had neither
time nor tears,
and there was no farewell.
We did not know
at the moment of parting
that it was a parting,
so where would our weeping
have come from?

Another poem — written in the wake of Israel's invasion of Beirut in 1982 — reflects a spirit of intransigence that runs deeper than any political manifesto can express:


The street is empty
as a monk's memory,
and faces explode in the flames
like acorns —
and the dead crowd the horizon
and doorways.
No vein can bleed
more than it already has,
no scream will rise
higher than it's already risen.
We will not leave!

Such passages of anger and defiance are rare in Ali's work, however — and they are complicated by passages in which he refuses to let them take command. Readers who pick up a poem called "Revenge" may find their worst prejudices about "the Arab mind" seemingly confirmed when the speaker expresses his wish to "meet in a duel / the man who killed my father / and razed our home / expelling me / into / a narrow country." One or the other of them must end up dead.

But then the poet begins to imagine the family and friends of his enemy — or the agony of his isolation, perhaps, if the man is alone in the world. The speaker of the poem abandons the thought of avenging an eye for an eye, a tooth for a tooth. Instead, he finds a different way to retaliate:


I'd be content
to ignore him when I passed him by
on the street — as I
convinced myself
that paying him no attention
in itself was a kind of revenge.


As his biographer notes, this unexpected variation on the theme of "turning the other cheek" makes this "among the most effective of Taha's poems," especially in public performances. Hoffman describes a reading Ali gave to an all-Jewish audience in Israel, after which he was approached by "a middle-aged woman in sensible sandals and a sun hat" who said she found the poem beautiful. "You know, the Jews felt the same way for many years," she told him, then leaned in to confess: "But I'm sorry to tell you, it doesn't work!"

As a young writer-in-training, Ali painstakingly taught himself the fine points of Arabic grammar and cultural history, and also immersed himself in English. He worked his way through a second-hand copy of An Approach to Literature — the classic New Critical textbook from 1936 by Cleanth Brooks and Robert Penn Warren, who taught readers to appreciate irony and paradox. Clearly he learned their lessons well. Like many Arab writers of his generation, he kept up with translations of Soviet literature, and I suspect Hoffman could have probed deeper into the possible influence of Vladmir Mayakovsky and Yevgeny Yevtushenko.

He also read the work of his peers, who in the 1960s created an overtly political "resistance literature" (as an influential critic termed it) with mass appeal. By contrast, Ali's work tends to be quieter and less declamatory. His verse is "jagged and personal," as Hoffman aptly characterizes it, with "a dark sense of humor and oddly syncopated rhythms"; it does not sound like either protest poetry or "the dreamy romanticism that usually served as an alternative." It embodies what one classical Arabic literary term sums up as "a difficult, elusive, or even inscrutable simplicity."

So, in its way, does Ali's life — with its modest routines in the souvenir shop covering over an agonizing history of displacement, of being made a foreigner in the land of his own birth. Thanks to Adina Hoffman's biography, readers are now better able to appreciate his struggle to create literature in circumstances that might otherwise yield only despair.