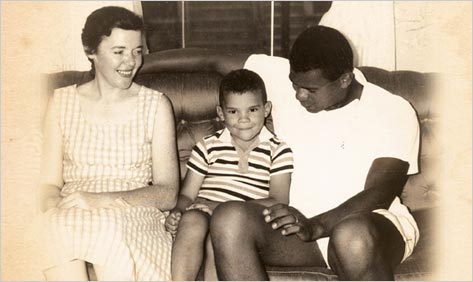 Mark Whitaker, the first black editor of Newsweek and current managing editor of CNN Worldwide, explains that it was the memoir of another prominent biracial man, Dreams of My Father by Barack Obama, that inspired him to write his own father's story in My Long Trip Home. He goes on to clarify that his memoir will be very different because, unlike President Obama, he knew his father "for half a century, for better or, as was so often the case, for worse."

The comparison between the two men is apt. Like Obama's, Whitaker's heritage is complicated and fascinating. His mother was born to white French-Protestant missionaries who sent her, at age fourteen, and her five younger sisters to live in the United States when the Nazis invaded France. Whitaker's father, C. S. Whitaker, or Syl (as he preferred), grew up in Pennsylvania, the son of black parents who ran a successful funeral parlor business. The two met at Swarthmore, where his mother taught French and his father was a student. After getting to know each other, they realized they shared a Quaker faith. And yet, despite their ability to overcome massive roadblocks as an interracial couple, the marriage failed after six years, and Mark and his brother Paul were estranged from their father as he moved away and grew increasingly troubled.

Though the absentee father is unfortunately a familiar theme for memoirists, Whitaker's approach to his story is unusual. As a journalist, he has been trained to remain unbiased — and though he has the right to editorialize on his father's actions, Whitaker never chooses sides. While he recalls his mother being distraught over his father's refusal to pay child support, his feelings about his father's behavior manifest in other ways — he turns to food for comfort and then battles anorexia as a teenager. He stops drinking for fear of succumbing to alcoholism, as his father did. In preparation for his own marriage, he asks his father why his parents divorced. When his father responds that his mother refused to wear lingerie, and "after that…it was over," Whitaker expresses disgust but offers a very evenhanded interpretation of the scene: "I was startled at how intent he was on blaming my mother, but I was also flattered that he was being so candid with me. And I felt relieved."

The second half of the memoir shifts abruptly from personal stories to Whitaker's professional life at Newsweek and his subsequent rise to the top of the magazine. His experience handling the major news stories of the last twenty years (including a funny anecdote about Henry Kissinger pulling over in Manhattan for soft-serve ice cream) gives the reader an insider's perspective on the New York news world. That said, the transition from personal to professional is jarring, and one feels that the time could have been spent on other questions. For instance, it's disappointing that Whitaker's mother remains a shadowy figure throughout the book. She is, after all, the person who raised him. Intriguingly, My Long Trip Home shares this with President Obama's book as well — in seeking closure with their fathers, the authors neglect their mothers.

Ultimately, Whitaker emphasizes the importance of forgiveness, but not before venting his resentment towards his father: "It wasn't just love for my wife and children that made me so driven to be a good husband and father. It was also an elaborate form of revenge. I was getting back at him by proving that I could succeed in all the ways he had failed, and that I could do it without his help." He eventually reneges on this anger, remembering what his mother's uncle warned her before her marriage: "Angry men don't make good husbands." Indeed they don't — but Whitaker's ability to move forward shows that anger can be transformed into sheer determination and, ultimately, success and understanding.