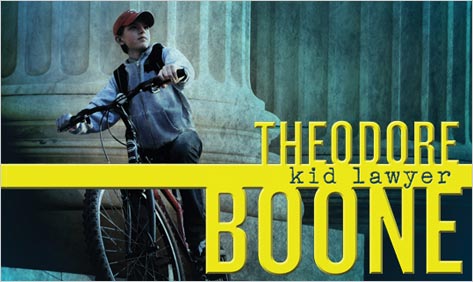 One of the things that has puzzled me the most in my years of serious mystery reading is why there are relatively few standout books geared specifically for middle grade and young adult readers. Consider that more than 1500 genre novels are published each year for grownups, and that many of those avid readers cut their teeth reading Nancy Drew, the Hardy Boys, Encyclopedia Brown and Agatha Christie (who wasn't writing for children, but whose prose style and subject matter often appeals to that group.) As they grew older, these readers gravitated towards the creepily suspenseful work by Lois Duncan, Ellen Raskin (her 1978 novel The Westing Game is an indescribable pleasure) and Caroline B. Cooney, who is still producing strong novels like 2009's If The Witness Lied.
Even big-name writers have moved into young adult territory, with mixed success: John Grisham's Theodore Boone: Kid Lawyer is more entertaining than it has a right to be (even if Theo seems to share more personality attributes with an older generation) while Carl Hiaasen's eco-themed Hoot nicely captured a middle-school protagonist. But what teen novels are out there that best reflect pre-teen and adolescent culture as it stands today?
It turns out, after some deep digging and recommendations from trusted sources, there are a number of wonderful recently published books that deserve a wider readership. But before I turn my attention to those, I should mention my favorite young adult mystery writer, Nancy Werlin. Her books offer strong plotting, multi-faceted characters and a keen eye for social issues that speak directly to her readers. At her best, as with the National Book Award nominee for The Rules of Survival and Edgar-Award winner The Killer's Cousin, she's among the best writers of the crime genre, period.
With only one novel to her credit, Anna Jarzab can't quite be classified in Werlin country, but All Unquiet Things is a big step in that direction. Though she has been dead for an entire year, with her murderer seemingly caught, the popular and self-destructive Carly comes to vibrant, if posthumous, life as a character, with Jazrab craftily unveiling her through the conflict-laden perspectives of her cousin, Audrey and ex-boyfriend, Neily.
Both are oppressed by guilt at not having done enough to prevent Carly's death and their uneasy alliance, forged in a mutual belief that the real killer remains loose, shifts with each new trust-busting or -building revelation. The emotions are true and real, just as the red herrings expertly misdirect away from the surprise revelation of Carly's true murderer.
Considering its blunt title is I Am Not a Serial Killer, Dan Wells' debut thriller has a surprising amount of nuance mixed in with its over-the-top, slightly fantastical premise. John Wayne Cleaver, after all, knows exactly who he is: an affect-free boy obsessed with serial killers because he doesn't want to grow up to be like one, and who lives by a rigid rulebook to prevent backsliding into his namesake's territory. No wonder the people who think they are closest to him — like his mortician mother, who urges Cleaver to try more typical hobbies — don't understand: "sociopathy wasn't just being emotionally deaf, it was being emotionally mute, too. I felt like the characters on our muted TV, waving their hands and screaming and never saying a word out loud."
Then people start dying in gruesome ways and young John Wayne realizes someone just like him is hunting, out of control, unless he does something about it. The enjoyable climax sets things up nicely for a sequel, but I Am Not A Serial Killer might have been brilliant had it kept John Wayne's story within realist waters instead of venturing into outright horror.
Two more series, at different stages and different time periods, hit that sweet spot of whodunit and adolescent politik, so to speak. Adult readers know Lauren Henderson for her Samantha Jones novels, part of the "Tart Noir" movement a decade or so ago, but her transition into writing for teens has been very smooth, thanks to an appealing heroine named Scarlett Wakefield, a boarding school setting, a coterie of ruthlessly mean girls and a murder she's been blamed for (the peanut allergy-induced death of a man she'd just kissed for the first time) whose inciting force and solution was handily dealt with in Kiss Me Kill Me and Kisses and Lies.
Now, in Kiss in the Dark, Scarlett's back at the aforementioned school run by her steely grandmother, ready for romance with her new boyfriend, when old nemesis Plum Saybourne arrives with nuclear impact. The school's against Scarlett, her best friend Taylor is acting strangely and there's another murder on school grounds that ties in unexpected ways with the mysterious deaths of her parents. Scarlett's predicament feels right because she didn't ask for trouble and yet is active about wriggling her way out of it. There's a steely dignity to Henderson's teen novels that should appeal to young readers. Like the rest of us, they appreciate books that refuse to talk down to them.
A Spy in the House, the first of Y.S. Lee's "The Agency" novels, is pure confection, an historical romp through England at the height of The Great Stink that imagines a secret spy ring for women tucked away where few notice but powerful factions clamor for their services. Mary Quinn was rescued from the gallows at the age of twelve, allowed to grow up in The Agency's cover, aka Miss Scrimshaw's School For Girls, and at seventeen, is tasked with her first assignment: disguise herself as a lady's companion and determine the whereabouts of a rich merchant's missing cargo ships.
With pacing con brio and a perpetual sense of fun, Lee evokes the sights, sounds and smells of Victorian London and creates, in Mary, a capable heroine prepared for almost anything, even budding romance with a young engineer – but not for jarring reminders of her true, mixed-race heritage and the key to her permanent belief she will never belong in either world. Lee returns to this theme of displacement in The Body at the Tower, the even-better second volume that will be published in August. Mary is a year older, more experienced, yet still vulnerable, prone to mistakes and in much need of all her wits and years of espionage training. The capper to the trilogy can't come fast enough — and will cause great sadness when it brings an end to this exciting series.