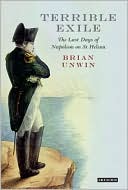 Napoleon Bonaparte died in exile on this day in 1821, of stomach cancer — or perhaps arsenic poisoning (possibly accidental). His burial on St. Helena a few days later, and a few days before the seventeenth anniversary of his self-appointment as emperor, was meant to discourage the most hopeful Napoleonist or relic merchant:
Determined that Napoleon should have no greater chance of escaping the island in death than when he was alive in captivity, the Governor had had Napoleon enclosed, like a Russian doll, in no fewer than four strong coffins, each one fitting inside another. The outside one was made of tough mahogany, the next one of lead, the third one again of mahogany, and the innermost one of tin plate.… Although the tomb was in theory to be a temporary resting place, prior to further decision by the British authorities on a final destination, the Governor had made sure that any attempt to disinter Napoleon and let the "Eagle" rise up once again to the open skies would not be an easy one. (Terrible Exile, Brian Unwin, 2010)
The rising up did not occur until 1840, and not until the duke of Wellington himself, seventy-one but still feisty, had signed off on the idea of homeland reinterment:
Field Marshal the Duke of Wellington presents his compliments to Her Majesty's Ministers. If they wish to know his opinion as a matter of public policy he must decline to give one. If, however, they wish only to consult him as a private individual he has no hesitation in saying that he does not care one twopenny damn what becomes of the ashes of Napoleon Bonaparte.
As described by Victor Hugo, the elaborate procession and entombment in Paris seemed to replicate, on a political level, the anxiety of the original Russian doll coffins:
The government seemed to fear the phantom they were summoning up. They looked like they were both displaying Napoleon and at the same time hiding him. Everything that would have been too great or too touching was left in shadow. Whatever was real or grand was hidden away beneath more or less splendid shrouds; the imperial cortège was hidden within the military cortège, the army within the National Guard, the parliamentary chambers within the Invalides and the coffin within the cenotaph.
---
Daybook is contributed by Steve King, who teaches in the English Department of Memorial University in St. John's, Newfoundland. His literary daybook began as a radio series syndicated nationally in Canada. He can be found online at todayinliterature.com.