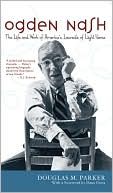 May 19: Ogden Nash died on this day in 1971, and Booth Tarkington died on this day in 1946. These two events meet at Nash's "Tarkington, Thou Should'st Be Living In This Hour," a poem which pays tribute to Tarkington's Seventeen (and which borrows for its title from Wordsworth's "London, 1802," which begins "Milton, thou should'st be living at this hour…."). Tarkington's bestselling 1916 novel is A Tale of Youth and Summer Time; Nash's poem is a befuddled parental howl:
O Adolescence, O Adolescence,

I wince before thine incandescence.

Thy constitution young and hearty

Is too much for this aged party.

Thou standest with loafer-flattened feet

Where bras and funny papers meet.

When anxious elders swarm about

Crying "Where are you going?",

thou answerest "Out,"

Leaving thy parents swamped in debts

For bubble gum and cigarettes….
In the last stanza, Nash arrives at some sort of accommodation, borne there by memories of "how my heart has leapt / At times when me thou didst accept," and by hopes of revenge: "Still, I'd like to be present, I must confess, / When thine own adolescents adolesce."
Loving Letters from Ogden Nash, a selection from the over 1000 letters Nash wrote to his wife and kids, leaves no doubt that he was a family man, and that his love and fun were appreciated. This moment comes at the very end of the book, a recollection by daughter Linall Nash Smith of arriving back home from the hospital on the day her poet-Dad died:
The shadows were lengthening in the courtyard where the birds picked last bites of sunflower seed before nightfall. In the twilight, a solitary monarch butterfly fluttered near the sliding-glass doors. "How odd," I thought absently as I followed Mother and Isabel into the kitchen. Mother took a bottle of champagne from the refrigerator, set out three glasses, and filled them, slowly and carefully. Everything seemed almost dreamlike as we carried our glasses back to the living room. The butterfly was still there, hovering near the glass. We raised our glasses, our eyes misty with visions past. "To Ogden!" said Mother, and we drank. The butterfly fluttered once more, a shadow now in the glorious May evening, then suddenly soared skyward and was gone.
---
Daybook is contributed by Steve King, who teaches in the English Department of Memorial University in St. John's, Newfoundland. His literary daybook began as a radio series syndicated nationally in Canada. He can be found online at todayinliterature.com.