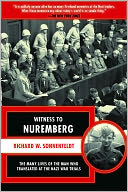 The Nuremberg Trials, a series of thirteen separate legal actions before Allied military tribunals, began on this day in 1945. The first, ten-month trial of those designated as Major War Criminals lasted almost a year, with all but a few of the two dozen defendants receiving lengthy prison sentences or the death penalty.

Among the memoirs by those at Nuremberg are two books written by men with unique vantage points. Leon Goldensohn, author of The Nuremberg Interviews (2004), was a U.S. Army psychiatrist responsible for monitoring the health of prisoners and witnesses, giving him regular contact with all those in confinement. His attempts to probe for motive, or just give ear to a full range of self-serving excuses, can be clear and condemning. "How did you figure a six-month-old Jewish infant must be killed — was it an enemy?" "In the child we see the grown-up," shrugs the SS officer responsible for killing thousands, and hanged for it. Other encounters elicit hostility, resignation, rationalization; Hitler's foreign minister, Joachim von Ribbentrop, seems to gaze back over his actions as incredulously as did the world:
I was truly under Hitler's spell, that cannot be denied. I was impressed with him from the moment I first met him, in 1932. He had terrific power, especially in his eyes.… Hitler always, until the end, and even now, had a strange fascination over me. Would you call it abnormal of me? Sometimes, in his presence, when he spoke of all his plans, the good things he would do for the Volk, vacations, highways, new buildings, cultural advantages and so forth, tears would come to my eyes. Would that be because I'm a hysterical weak man? I don't think I'm particularly weak as a man…. [U]ntil I met Hitler in 1932 or 1933 I was never a coward, or easily influenced. That is why I keep repeating what a magnetic, powerful personality he was.
Richard W. Sonnenfeldt, chief interpreter for the American prosecution, also had regular prisoner access. In Witness to Nuremberg (2006) Sonnenfeldt describes von Ribbentrop as "an incredibly voluble windbag" who "stopped jabbering only shortly before the hangman slipped the noose over his neck." Sonnenfeldt was so incredulous that such a "hand-wringing wreck of a man" could have risen to high office that he asked one of von Ribbentrop's deputies for an explanation: "Is he demented now because he is fearing for his life?" asks Sonnefeldt; "Hitler never noticed Ribbentrop's babbling," says the deputy, "because Hitler always did the talking."
---
Daybook is contributed by Steve King, who teaches in the English Department of Memorial University in St. John's, Newfoundland. His literary daybook began as a radio series syndicated nationally in Canada. He can be found online at todayinliterature.com.