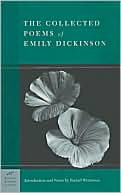 Emily Dickinson's Poems, her first posthumous collection, appeared on this day in 1890, to some praise and much scorn. Those critics who could excuse her odd rhythms and rhymes found "a fascination, a power, a vision that enthralls." Others expressed regret for "a superb brain that has suffered some obscure lesion." The Atlantic Monthly thought the poems had "a queerness and a quaintness that have stirred a momentary curiosity in emotional bosoms [but] oblivion lingers in the immediate neighborhood.… An eccentric, dreamy, half-educated recluse in an out-of-the-way New England village (or anywhere else) cannot with impunity set at defiance the laws of gravitation and grammar." On the other side of the Atlantic, the London Daily News thought them "a farrago of illiterate and uneducated sentiment." Unprepared for "I taste a liquor never brewed / From tankards scooped in pearl," the reviewer threw up his practical hands: "It is clearly impossible to scoop a tankard from pearl… This is no more English than it is Coptic." Such Old Worldliness was not well-received in New England: "It is reassuring to hear the English pronouncement that Emily Dickinson is fifth-rate," wrote the sister of Henry James, "they have such a capacity for missing quality."


On this day in 1935 twenty-seven-year-old Theodore Roethke was hospitalized for the first of the manic-depressive breakdowns that would recur throughout his life. Roethke had just begun a teaching post at Michigan State University and, according to colleagues, had been drinking heavily all semester — dozens of cups of coffee and bottles of cola a day as well as alcohol. On the previous evening, a cold one, he had taken a long walk in the woods without a coat and eventually with only one shoe; the next morning, after another walk in the woods, also coatless, he showed up shivering and delirious at the dean's office, and he was taken to hospital.

Whatever the causes of his mental problems, Roethke's biographers say that he kept working with characteristic intensity even when ill. Roethke's first psychiatrist said, "You can't cure a personality"; the psychiatrist Roethke liked best said, "I think his troubles were merely the running expenses he paid for being his kind of poet." His own assessment, given in a notebook entry shortly before his death at age fifty-five — a heart attack, while swimming — was that it was all a mystery:
Am I sick? Am I well?
Not even God, I think, could tell.
---
Daybook is contributed by Steve King, who teaches in the English Department of Memorial University in St. John's, Newfoundland. His literary daybook began as a radio series syndicated nationally in Canada. He can be found online at todayinliterature.com.