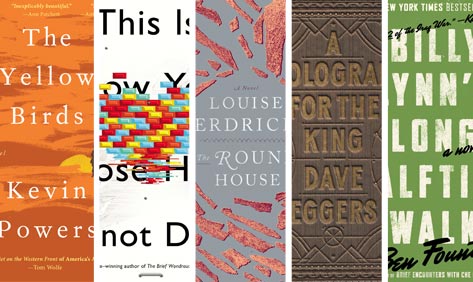 This last summer, always a slow time for book critics, a fight broke out about niceness. Reviewers in Slate, The New York Times, Salon, The New Yorker, and the blogosphere weighed in. Some threw roundhouses against soft-hearted reviewers, others parried with jabs of artistic empathy and literary charity, but there was no knockout, not even a split decision in this free-for-all. Now we're entering the season of institutionalized good feelings: first the National Book Awards, then the National Book Critics Circle Awards and Pulitzer Prizes. Encomia and money will be bestowed on numerous finalists, all of whom, we will be assured, are worthy of our affection. However, in my three years of surveying NBA fiction finalists in this space, I've found that some books to which the ever-changing committees have been nice were merely modest achievements or even mediocre. This includes winners of the award the last two years.
My experience as an NBA judge taught me one reason for the uneven quality of winners and finalists. Two judges wanted to be nice to a friend and an associate whose novel was nominated; three judges thought another book was the best and had the votes to deny the nice-ters, but to avoid blows at the decision lunch the novel they pushed was allowed recognition as a finalist. Each NBA committee decides its own procedures, so another reason for inexplicable niceness, I've been told by a former judge, is that in the year he served each of the five judges was permitted to pick a finalist.
As you can probably tell by this point, I'm in the anti-nice corner. When a committee gives an award, they shouldn't be doing personal favors or advancing a young writer's career or belatedly recognizing a declining talent or promoting an aesthetic program or observing any of the varieties of political correctness. The winning book should be the most ambitious, profound, and original work published in the year. That I need to say this suggests that we are awash in misplaced positivity. But I will admit I've been wrong once or twice about books, so in the service of fairness — not niceness — I'll be quoting substantial excerpts from each of the fiction finalists to give readers some evidence for the judgments I offer.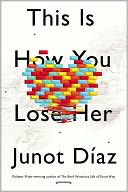 Of the five nominees, Junot Díaz has received the most love recently: a MacArthur "genius grant," numerous interviews, reviews charmed by This Is How You Lose Her, his book of nine stories, all but one about Yunior, a character from Díaz's earlier books. Yunior, like Díaz a Dominican-born professor at a prestigious Boston university, recalls the females he has lost, from a little girl who ran away because as a boy he couldn't speak English, to a teacher who taught him the joy of sex in high school, to numerous girlfriends he betrayed. In the last story, "The Cheater's Guide to Love," Yunior, in the second-person Díaz sometimes adopts, realizes he doesn't want to lose his fiancee:
You try every trick in the book to keep her. You write her letters. You drive her to work. You quote Neruda. You compose a mass e-mail disowning all your sucias [loose women]. You block their e-mails. You change your phone number. You stop drinking. You stop smoking. You claim you're a sex addict and start attending meetings. You blame your father. You blame your mother. You blame the patriarchy. You blame Santo Domingo.
The passage is comic — mixing Neruda with "sucias," listing desperate measures, distributing wholesale blame — but also points to the serious backgrounds and undersides of several stories. Yunior's father was a cruel womanizer, his mother was a victim who relied on prayer, life in New Jersey was difficult for this immigrant family whose first son, Rafa, died young. As a youth, Yunior imitated Rafa's feckless machismo; two decades later he is both imitating and regretting it. The passage displays Díaz's stomping stylistic energy but also the repetitiveness of This Is How You Lose Her. Too many stories are like Yunior's simple sentences, constrained within a mode that can be called the adolescent male anecdotal. This limitation is made obvious when one reads the book's most mature and richest story, "Otravida, Otravez"; it features a woman narrator and is not about Yunior, Díaz's tireless and tiresome alter id.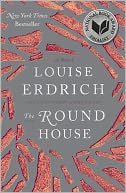 The Round House has been widely and well received as vintage Louise Erdrich, who is probably the sentimental favorite since — as she makes clear in her Afterword — she is recovering from breast cancer. Set on a North Dakota reservation in 1988, the story is told by Joe Coutts, a 13-year-old whose Native American mother is raped by a white man. Dissatisfied with reservation law enforcement, Joe puts himself on the case. After following some false leads, our boy detective finds, like Huck Finn and Tom Sawyer before him, a mysterious cache of cash and learns the perpetrator's name. But because of complicated laws governing prosecution when the exact location of a crime against a reservation dweller is not known, the rapist goes unpunished and suspense builds a second time as Joe plans his murder. Despite this Law and Order double plotting, the novel resembles the characters of Suzette and Josey, decked out for a powwow held at the sacred Round House:
…[Their] beaded yokes and the tanned hides, the bone breastplates and the woolen shawls, the heavy silver concho belts and figured ornaments and all that long leather fringe must have weighed sixty pounds or more. Suzette and Josey were round but phenomenally strong, so they could move with dignity under the weight of all this tradition, and not collapse. Randall was hardly weighed down at all by contrast, but he was covered with so many feathers Cappy said it looked like he'd rolled in a flock of eagles. He had a pair of red long johns with aprons or breechcloths that hung fore and aft.
As if embarrassed to be writing a crime novel, Erdrich loads and overloads her book with realist-responsible verisimilitude. She never neglects to describe the food her characters eat, always details weather and road conditions, includes some sexual initiations, and demonstrates her knowledge of then-contemporary TV. She also interrupts Joe's narration with decoratively feathered tales by his grandfather.Like the women in the passage above, The Round House is well-muscled enough to resist a "collapse" under all this padding, but the novel does feel more like the familiar product of an experienced, hard-working, and earnest artisan than the art of an NBA finalist.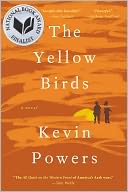 Although Kevin Powers's The Yellow Birds is a first novel, it has received some enthusiastic reviews — famously hard-to-please critic Michiko Kakutani called it a "classic of contemporary war fiction" in The New York Times. John Bartle, back from his tour of duty as a U.S. Army infantryman in Iraq, tells his tale out of chronological sequence, but his history is easily reconstructed. He impulsively joins up as a teenager, befriends a fellow small-town Virginian called "Murph," goes to Iraq in 2004, sees death up close, kills up close, and gradually discovers the younger Murph can't abide the horror of combat. We learn early on that Murph will die but not precisely how and not exactly what Bartle's response will be, so there is a semblance of suspense. Bartle's return home is predictably difficult but also surprisingly punishing. Although Powers served in Iraq and knows its heat, sand, and blood, his book seems to have an ancient literary model: the friendship of Achilles and his KIA friend Patroclus in The Iliad, European culture's first great war story about westerners invading the east. This would explain why Bartle, like Homer, so frequently meditates on cosmic fate. Here is Bartle thinking about marks on a wall:
Eventually, I realized that the marks could not be assembled into any kind of pattern. They were fixed in place. Connecting them would be wrong. They fell where they had fallen. Marks representing the randomness of the war were made at whatever moment I remembered them: disorder predominated. Entropy increased in the six-by-eight-foot universe of my single cell. I eventually accepted the fact that the only equality that lasts is the fact that everything falls away from everything else.
Unlike Bartle, Powers has given order to his marks — both his characters as victims of a scam (the war itself) and his alphabetical characters on the page. But his fondness for abstractions, his few stock minor characters, his descriptions of the usual releases of drink and sex, Bartle's post-trauma paralysis, even Powers's poetic atmospherics make the novel too ordered, closed-in like Bartle's cell, closed-off from messy political and cultural complications. Perhaps Powers wanted to give his book the narrow focus and metafictional implications of Melville's "Bartleby, the Scrivener," but compared with recent war novels that won the award — Vollmann's Europe Central and Johnson's Tree of Smoke — The Yellow Birds lacks, at a little over 200 pages, the scale and the range of a major work.
That last quality — range — separates these three finalists from the next two. Díaz, Erdrich, and Powers are all concerned with cultural conflicts and are good at what they do, which accounts for their generous reception and nomination. But Dave Eggers and Ben Fountain clear a higher bar, up there where the novelist has a panoramic view and long gaze beyond most readers' horizons and where imagination is less inhibited by the gravity of genre and readers' expectations. The first three books are nice — in the way that, for example, a skilled action in tennis or golf or basketball is called a "nice shot." A Hologram for the King and Billy Lynn's Long Halftime Walk are "great shots," and great shots are born out of long-shot circumstances. Both of these books begin with protagonists waiting and waiting for something to happen — unpromising premises that the authors make into powerful metaphors for lives split between the Arab world and the United States.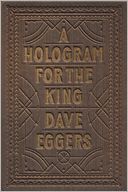 In A Hologram for the King, Alan Clay, a 54-year-old sales lifer goes to Saudi Arabia to pitch an IT system for a desert city of the future. Alan and his three young technical assistants spend weeks waiting for King Abdullah to appear and watch their presentation, so not much occurs in the novel's first third. Alan uses his down time to muse about his past and to observe Saudis and their country. Although he is a failed husband, an ineffectual father, a nearly bankrupt businessman, a hapless figure to his assistants, a daily imbiber of potent moonshine, and prone to exaggeration, Alan does have an intimation of his mission's fate as he looks out his hotel window:
The Red Sea lay beyond, inert, the whole thing doomed. The Saudis were sucking it dry to drink. In the seventies they'd drained a few billion gallons to desalinize and feed their wayward wheat industry — the whole project now abandoned. Now they were drinking that sea. My God, he thought, did people belong in this part of the world? The Earth is an animal that shakes off its fleas when they dig too deep, bite too hard. It shifts and our cities fall; it sighs and the coasts are overtaken. We really shouldn't be here at all.
Alan shouldn't be "here" because his initial salesman's optimism is as flimsy as a hologram or mirage. Americans shouldn't be here because the cut-rate Chinese have the contract in the bag. The Saudis shouldn't be building a new city here because demand has vanished. As the plot eventually jumps and starts with Alan's increasingly desperate actions — performing self-surgery with a steak knife, pretending to be a C.I.A. agent — Eggers excels at depicting the existential plight of a representative American out of place, time, and luck. But the passage above — with its researched factoids developing into a question, an arching metaphor, and a plainspoken conclusion — represents the greater achievement of this stylistically restrained but consistently smart novel, its ranging across the relations among geography, economics, politics, sociology, and individual character — as Eggers did in his best previous book, What Is the What. Like the now classic failures in Mamet's Glengarry Glenn Ross, the globalized "fleas" in A Hologram for the King are futile and sad and absurd, but Eggers treats them fairly and even allows two of them — and readers — some joyful moments in that doomed Red Sea.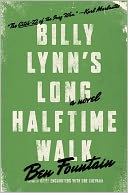 In Ben Fountain's Billy Lynn's Long Halftime Walk, the 19-year-old Billy and seven other members of an Army squad must wait through two-thirds of the novel to participate in a nationally televised Thanksgiving Day show celebrating them as Iraqi war heroes. Except for a few flashbacks to Billy's small-town family and to battle scenes, the whole novel occurs in this one day in Texas Stadium, home of the Dallas Cowboys — "America's Team." Fountain provides a personal plot — Billy wonders if he will make it with a cheerleader and considers deserting before he is sent back to Iraq — but plot is a minor feature of this tour de force that records a Babel of Americana:
Billy continues to be amazed at the public response, the raw wavering voices and frenzied speech patterns, the gibberish spilled from the mouths of seemingly well-adjusted citizens. We appreciate, they say, their voices throbbing like a lover's. Sometimes they come right out and say it, We love you. We are so grateful. We cherish and bless. We pray, hope, honor-respect-love-and-revere and they do, in the act of speaking they experience the mighty words, these verbal arabesques that spark and snap in Billy's ears like bugs impacting an electric bug zapper.

terrRr

Eye-rack,

Eaaaar-rock,

Sod'm
The Latino and African-American voices of the men in Bravo squad both enjoy and mock (like the bug zapper) the adulation they receive from everyone — a Hollywood movie producer, friends of President Bush, their rich Cowboy hosts and the famed Cowboys cheerleaders, as well as other various cheerleaders for a war that most of Bravo squad thinks is bullshit. The public seems to believe that if Fox News declares the soldiers heroes, the war must be heroic, and the public is thankful for their own illusion. During his time in the Army and on Bravo's two-week "Victory Tour," the under-educated but perceptive Billy has "brief sightlines into America as a nightmare of superabundance," a country that can afford to waste the lives of boys like Billy, whose name and naiveté recall Vonnegut's Billy Pilgrim in Slaughterhouse-Five. Fountain scales up Billy's recognitions and dramatizes with functional excesses climaxing in a gigantic halftime show featuring Beyoncé, dervishing dancers, a drill team, and fireworks that narcotize the public but freak out the combat-conditioned Bravos.
Near the novel's end, Fountain comments on the Fox video that "discovered" the Bravos, on the proposed movie about them, and on his own fiction:
It's so real it looks fake — too showy, too hyped up and cinematic, a B-movie's defiant or defensive flirtation with the referential limits of kitsch. Would a more polished product serve better, one wonders — throw in some story arc, a good dose of character development, artful lighting, and multiple camera angles, plus a soundtrack to tee up the emotive cues.
The novel is both "defiant" in conception and "polished" in its execution, "referential" in its vision and "artful" in its sentences, satiric about stay-home patriots and heartfelt about young men dying to avenge "nina leven, nina leven," as Billy hears 9/11. The book is a throwback to a more adventurous and provocative time in American fiction, when monsters such as Robert Coover's The Public Burning (which staged the Rosenberg executions in Times Square) and William Gaddis's JR (which was all voices all the time) and, since we're talking war and football, Don DeLillo's gibbering nuclear-obsessed End Zone stalked the earth. Fountain may not prove to be the equal of these writers, but the inventive "superabundance," along with the flat-out fun, of Billy Lynn's Long Halftime Walk raises it above the other NBA finalists.
Only one of the 20th-century novels I mentioned — JR — won the National Book Award. Only one of the three books I've picked the last three years — Colum McCann's Let the Great World Spin — won. Billy Lynn has the broad "sightlines" and democratic voices of McCann's book, but A Hologram for the King would also be a worthy choice for its portrait of a shrinking micro-man in an expanding macro world. If any other book wins, suspect niceness is at work.
To compare my judgments with those of earlier Barnes and Noble Review critics, follow the links below:
Heller McAlpin on This Is How You Lose Her
Veronique de Turenne on The Yellow Birds