Among the many pleasures that short stories offer are crystallized moments in which characters' yearnings and failures become a sort of prayer that we temporarily lose ourselves in. In giving ourselves over to the urgency of the moment, we abandon our own problems and immerse ourselves in the world of others.
The word abandonment has two definitions: to give up on but also to surrender to impulses and desires. The characters in Quade's debut short story collection, Night at the Fiestas, are abandoners and abandonees. Most of them live in New Mexico, a state that has gained even more pop cultural significance in the wake of the darkly brilliant Breaking Bad.
So much of that show centered on the idea of family — what people are willing to do in order to protect the ones they love and what people do solely for themselves. While Quade's stories aren't as brutally violent, they plumb the deeply entrenched motivations of flawed people — parents and children who feel like outsiders in their own home.
The author herself isn't an outsider in the literary scene. Last year she was selected by Andre Dubus III to be one of the National Book Awards "5 under 35" writers, putting her on the map before her book was published.
In "Jubilee," one of the best stories in the book, a young Mexican-American woman comes face to face with her own biases when she goes to a party hosted by the owner of the orchard where her father works. It's a story of resentment, class, privilege, and self-destruction.
In "The Five Wounds," an absent father, Amadeo Padilla, wants to atone for his sins by playing the part of Jesus in a religious ceremony. His plans are interrupted when his very pregnant teenage daughter shows up at his mother's house. He hasn't seen her in a year, and he's preoccupied:
He needs to know if he has it in him to ask for the nails, if he can get up there in front of the whole town and do a performance so convincing he'll transubstantiate right there on the cross into something real. . . . Total redemption in one gesture, if only he can do it right.
Jesus suffered the Stigmata, but Amadeo doesn't realize until it's too late that witnessing his daughter observing him on the cross is excruciating. Emotional pain can hold its hostages with a far stronger grip than nails through the flesh.
Many of Quade's characters value the idea of pretending and performing. In the title story, a teenage girl travels to Santa Fe in order to attend a festival that celebrates the Spanish colonists taking back the city from Pueblo residents in the seventeenth century. Frances is consumed by the idea of how she should be and what she should do: she thinks of herself as a character in a novel. On the ride to the fiestas, she reads part of Thomas Hardy's Tess of the D'Urbervilles and compares herself to the heroine: "Frances considered herself, like Tess, a vessel of emotion untinctured by experience, and Frances very much wanted to be tinctured."
Quade is intent on exposing the moments in which confrontations, both internal and external, lead to a transmutation. Frances boards the bus as an all-knowing but naive teenager who is slightly embarrassed by her father, the driver. She leaves the bus with a brown paper lunch bag that contains a large amount of cash, left behind by a shady man who insulted her. "It was already a part of her, or not of her, but of the Frances she was becoming."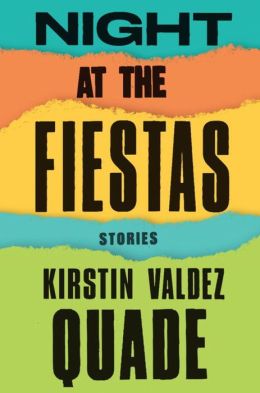 In "Canute Commands the Tides," a well-to-do artist and retiree moves to Santa Fe from Connecticut and befriends Carmen, her housekeeper. Margaret is working on paintings based around the story of Canute, a king who said he could stop the tides. She paints chairs in the ocean, and it becomes clear that her art is a metaphor for how she handles her own life. "All her life, she'd never really chosen, just allowed the currents to pull her this way and that. Even her art — especially her art — she'd just let happen to her. She'd never truly decided, thrown herself into it headlong, made it matter." Carmen is completely different from her in class and ethnicity, but Margaret is drawn to her and dependent, until a tense scene in which Carmen's gun-wielding son shows up at the house. His violent interruption thrusts Margaret into dangerous waters, and she momentarily becomes a stranger in her own home.
The story is powerful in its portrayal of preconceived notions and assumptions and how quickly we can delude ourselves into thinking we really know someone. Margaret tries to alleviate a very stressful situation by offering Carmen's son money. But that's not what he wants. She tries to protect Carmen from the son's wrath, but Carmen reprimands her. "The terror and fury and love and whatever else was mixed up in it was theirs alone, and it was Margaret's own stupid fault it was taking place in her house."
Some of the stories fall a little flat. "Family Reunion" follows a young Salt Lake City atheist who's determined to convert to Mormonism in order to fit in with her classmates. On a trip with her friend and her friend's mom, she's made to realize how different she really is. It's unfortunate that the story feels sluggish and repetitive, out of place in this dynamic book.
If there's a common thread in Night at the Fiestas, it's redemption. That's what stories can offer: a moment in which everything makes sense, even when it doesn't. Quade writes in "The Manzanos":
Jesus looks down on us from the cross, mournful and distant and preoccupied with his own story.

I feel my soul inside me, made of thin, pale paper, fragile as a Japanese lantern, resting above my heart. I move with care and take shallow breaths so as not to crush it.
Her words illuminate the internal struggles that make us entirely human, entirely fallible.